Apple Thunderbolt Displays Shipping Now Plus Some Clarifications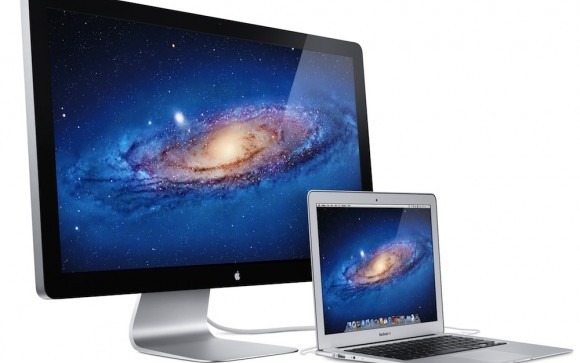 Apple's Thunderbolt Displays have finally begun shipping, but the company had to post some clarifications as to how the displays can be connected and daisy-chained. Apparently there has been some confusion as to whether the new Thunderbolt-equipped display would connect with existing Cinema Displays via the Mini DisplayPort and how many additional monitors can be linked together.
Well, Apple has some bad news for those who were hoping to daisy chain an existing Apple LED Cinema Display. Although those screens sport a physically identical Mini DisplayPort, they have never been able to support daisy-chaining and will not work when connected to a new Thunderbolt Display. However, they do work with Thunderbolt cables as long as no additional displays are in the chain.
As for the number of Thunderbolt Displays supported by recent Macs, the answer varies depending on the model. MacBook Airs can only support one external Thunderbolt Display in addition to its built-in screen, while MacBook Pros, iMacs, and Mac minis can support two Thunderbolt Displays. But do note that with the lowest-end 13-inch MacBook Pro, attaching two displays would mean disabling the built-in screen, while the highest-end Mac mini with discrete AMD graphics can support two Thunderbolt Displays in addition to a third display attached via its HDMI port.
[via AppleInsider]