Apple's fight against the FBI rages on this week. Earlier today, Apple filed their formal response with the court, likening the "govtOS" that they'd be forced to create to a "cancer." But while the court battle continues, Apple appears to be exploring another avenue to keep their customers' data private and secure.
If you're not familiar with the app Signal, it's one of many alternative messaging apps out there. Signal's biggest feature is the fact that all of your messages use end-to-end encryption in order to keep everything private. There is quite literally no way for them to listen in on any of your calls, or read your messages. It's secure enough the Edward Snowden uses it every day. And if there's anyone out there that wants to keep their communications secure, it's that guy.
So what does this have to do with Apple's fight against the FBI? Well, the tech giant offered an internship to Frederic Jacobs, one of the creators of Signal. That's a pretty big hint at what Apple has in store for iOS in the future, I'd say.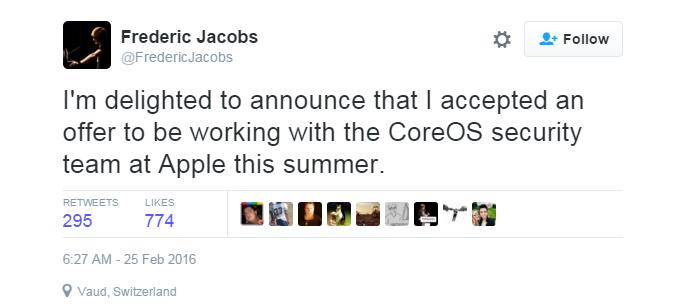 Just a couple of days ago sources close to Apple confirmed that the company is already at work trying to make future versions of their iOS software even harder for anyone to hack, including themselves. I'm guessing that bringing in Jacobs has something to do with those efforts.
VIA: PCMag