Apple Store app updated with same-day delivery via Postmates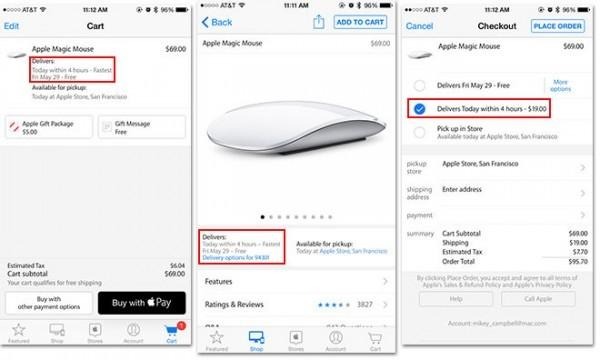 Apple updated its Apple Store app for iOS this week, and to our surprise is now offering same-day delivery for some of the items offered in the app. The choice seems to be in testing at this point as it's only available in select cities, but is an alternative to using Apple's in-store pickup option. The same-day delivery comes via a new partnership with Postmates, the on-demand logistics service. For customers where the service is available, they will see the option to have an item delivered that day, usually within a few hours, for a flat price of $19.
The same-day delivery option is currently only available in the San Francisco Bay Area. Customers within the area will see the Postmates delivery option listed on qualifying products they search for in the Apple Store app. Examples include an Apple TV that offers delivery within 4 hours. The times seem range between 1 and 4 hours, however some items may take a full day.
After placing an order with same-day delivery, customer will receive estimated delivery times and tracking information, in addition to the option to live track the package within the Apple Store app. Customers who live outside the area where the service is offered simply won't have an option for same-day delivery on items they search for.
Apple hasn't even officially announced the service yet, and one Postmates delivery driver told MacRumors that the partnership between the companies just started. Postmates' own iOS app has long offered delivery on most Apple products that were available for in-store pickup. It sounds like limiting the delivery option to San Francisco is purely a testing phase, as Postmates already operates in a large number of cities across the US.
SOURCE MacRumors