Apple Stopping Free iPhone 4 Case Program On September 30th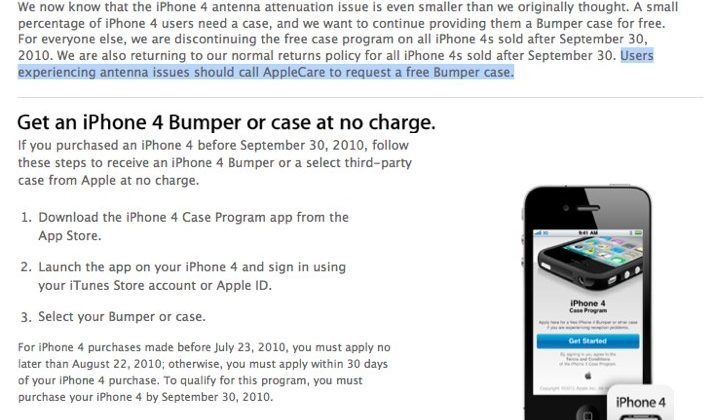 When "antennagate" turned into a whole "thing," Apple's Steve Jobs went out on stage and talked about the situation. He told everyone watching, which eventually made it to everyone else, that the iPhone 4's antenna issues weren't just plaguing the iPhone 4, but that it was a problem with the whole smart phone industry. But, while Jobs can't fix the entire industry, he did offer up a free case program, as well as extending the normal 14-day return policy to 30-days. But, it's September 10th today, and the program is coming to an end in 20 days.
But, not all is lost. While, yes, Apple is indeed ending the overall program, which meant owners of the iPhone 4 could cash in a problem with their antenna and get a free case (whether they really had a problem with their antenna or not). It also meant that Apple's return policy was "upgraded" from 14-days to 30, and the traditional restocking fee of 10% was waived. But, those two features are going back to their old ways: purchasing an iPhone 4 after September 30th means you only get 14 days to try out your new device, and if you do choose to return it, you'll have to fork over that 10% restocking fee.
But, again, all is not lost. Apple is canceling the third party free case program, but that doesn't mean you still can't get an iPhone 4 Bumper case for free. The only catch is that your iPhone really, really has to have a problem with its antenna. You can either call into Apple Care and talk to a representative there, and voice your concerns with them over the phone, or head into your local Apple Store, and talk to an employee there. If it's determined that your device is suffering from antenna issues, Apple will happily supply you with a free Bumper case.
Here's the quote from Apple's site, directly:
"We now know that the iPhone 4 antenna attenuation issue is even smaller than we originally thought. A small percentage of iPhone 4 users need a case, and we want to continue providing them a Bumper case for free. For everyone else, we are discontinuing the free case program on all iPhone 4s sold after September 30, 2010. We are also returning to our normal returns policy for all iPhone 4s sold after September 30. Users experiencing antenna issues should call AppleCare to request a free Bumper case."
So, Apple's keeping up with the problem — they're not just cutting off support entirely. While they're now saying it's plaguing less customers than they normally thought, they are still admitting that the problem exists, and they're going to do what they can to fix it. So, judged on a case-by-case nature, if your iPhone 4 is suffering from its own version of "antennagate," then all you have to do is go through the right channels and you'll get it taken care of.
[via Apple]