Apple Single Sign-On for iOS, Apple TV goes live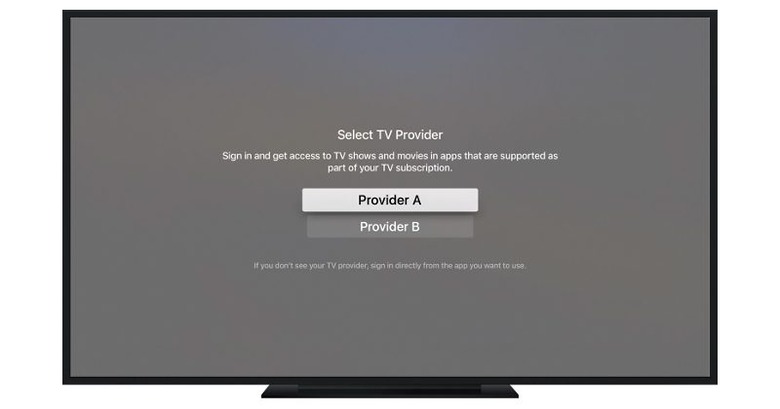 While Apple fans are still waiting for the company's next big move in the entertainment space, that is, its own Internet TV service, Apple is at least offering them some conveniences to keep their myriad cable and streaming services in order. Previously only available in beta versions of tvOS and iOS, Apple's Single Sign-On feature is now rolling out to all users, at least in the US. Now these users will no longer have to be bothered by repeatedly entering their credentials to sign into mobile apps. They can just do it once and forget about it.
Many cable and satellite service providers have embraced the mobile revolution, rather than go prehistoric on TVs. That, however, means that each provider has its own mobile app that you need to sign into to access. And if you happen to have multiple devices, you have to sign into each and every one of them.
With the Single Sign-On feature, you only have to do it once and never again. That is true whether you're starting from an Apple TV, iPhone, or iPad. All you need to do is go to the Settings app on the device, navigate to the TV Provider section, and sign in with your credentials for that provider. The next time you open a supported app, you will be asked whether you want to use the stored credentials rather than having to input it every time.
That said, Single Sign-On is currently limited to a few providers, in addition to being limited to the US. That list includes CenturyLink Prism, DirecTV, Dish, GVTC, GTA, Hawaiian Telcom, Hotwire, MetroCast, and Sling. And not all apps support the feature either, with some working only on iOS or tvOS. The full list is kept updated on Apple's support page for the feature.
The Single Sign-On is just a prelude to the upcoming new TV app that will hit when iOS 10.2 and tvOS 10.1 goes gold. This TV app will replace the current Videos app and will not just be a hub for videos but also a TV guide for content coming from multiple devices and providers.