Apple Showtime! September 12th Apple Media Event roundup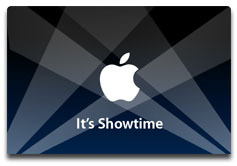 "Showtime" is showtime indeed! Here is the round up of what's happening on Apple's media event.
- 450,000 sales in 90 days on iPod sports kit.
- iPod is getting some enhancement. 60% brighter screen with brightness control, 3.5 hours video playback (larger iPod goes up to 6.5 hours), new headphones, gapless playback.
- iPod new software features: instant searching, new games (Bejeweled, Cubis 2, Mahjong, Mini golf, pac man, tetris, texas holdem, vortex, and zuma)
- Games on iTunes for $4.99 (works with 5th generation)
- iPod Nano is in Aluminium and available in more colors (Green, Silver, Black, Blue and Pink) with 24 hours battery life. 2GB is $149 in silver only, 4GB is $199 in all colors but black, 8GB is $249 in all colors.
- 2nd Gen of iPod Shuffle is the size of iPod Radio Remote with metal chasis. 1 model (1GB), $79, ships in October.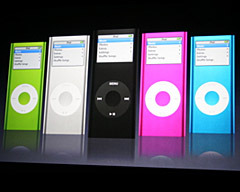 - iTunes 7 announced today. Source list now includes library with sep libraries for all forms of media. Store now has own section; devices have their own sections, playlists. Cover art are free if you are missing cover art. 3 different views of iTunes, list view, album view (with art and tracks), then "cover flow view" lets you rapidly find what you want by album cover. iPod updater appears to be now integrated into iTunes.
- TV shows are now encoded at 640x480 (h264), up from 320x240.
- Movies; from Walt Disney, Pixar, Touchstone, Miramax. 75 films online today, more added every week and monthy. New releases 12.99 preorders and first week, after that up to $14.99. Most titles will be $9.99. Near DVD quality. Same encoding as TV shows at 640x480. If you have a 5mb/s broadband connection, it will take approximately 30 minutes to download a movie. Dolby surround audio in videos.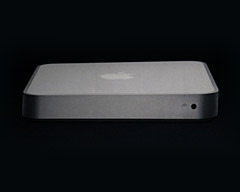 - On Q1 2007 Apple is releasing its long-rumored wireless set-top box called iTV (Not a final name). 1/2 size of Mac Mini, built-in power supply, USB, Ethernet, 802.11 "wireless component video", optical audio and HDMI ports, plus old RCA stereo audio ports. Works with Apple Remote. iTV lets you get access to trailers and itunes store selected content from internet. iTV will works with iTunes on PC or Mac. price will be $299. Photos of iTV on the right side (credit to gizmodo).
That's all folks!
[photos by gizmodo, live coverage by ilounge & engadget]