Apple Pro Display XDR is the perfect Mac Pro monitor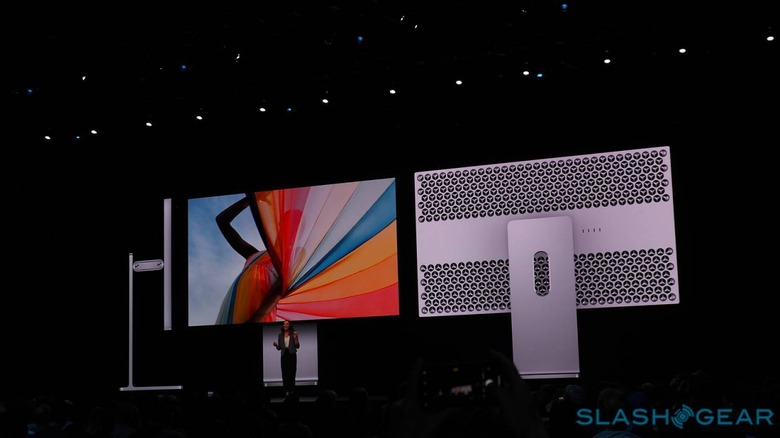 With a new Mac Pro on the horizon, Apple has decided that a computer as beefy as that needs an equally beefy display. Right after giving us a few demos of the Mac Pro in action at WWDC today, Apple introduced us to the Pro Display XDR, a 32-inch 6K retina display that's meant to go hand-in-hand with Apple's top-of-the-line desktop. That, of course, means that you're going to paying a significant chunk of change to own one.
All the money you'll spend on the Pro Display XDR definitely gets you a long feature list, though. In addition to that resolution of 6016 x 3384 pixels, this 32-inch LCD is capable of producing a persistent brightness of 1,000 nits, with a peak brightness that clocks in at 1,600 nits. It's able to do that because the rear panel of the display, which looks distinctly like the chassis of the Mac Pro that was introduced today, acts as a heat sink for each LED.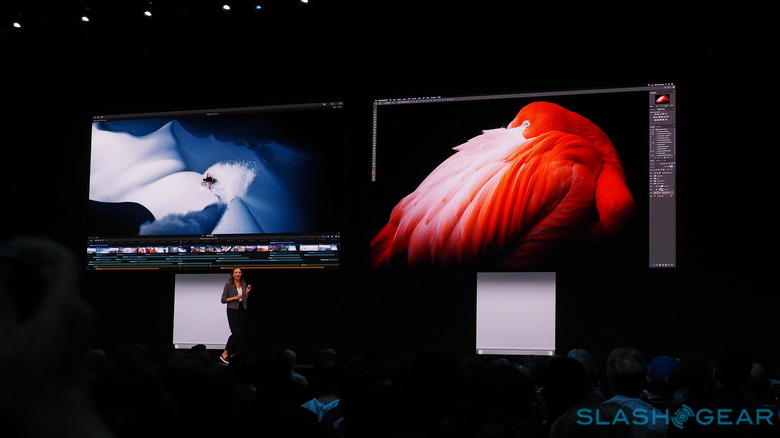 The result is a display that supports a contrast ratio of 1,000,000:1, leading Apple to say the display is capable of "extreme dynamic range," or "XDR." Now that you know where the name "Pro Display XDR" comes from, it's also worth knowing that this display supports P3 wide color gamut and true 10-bit color. By default, it's covered in Apple's anti-reflective coating, but you can also pay extra for etched glass that gives it the benefits of a matte display without the loss of contrast.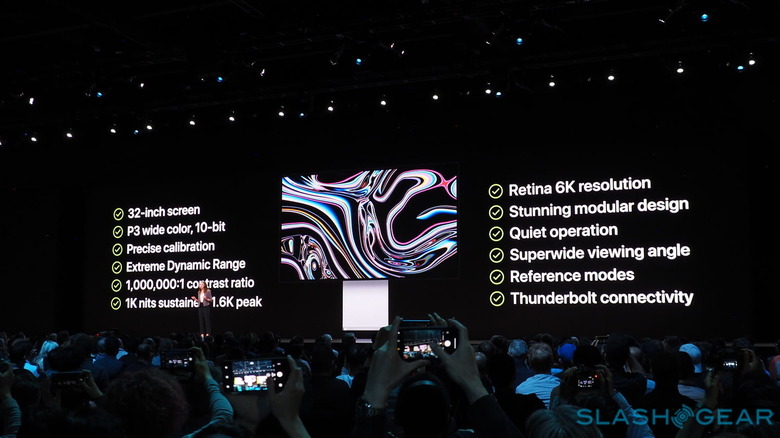 The Pro Display XDR is also a modular monitor that can detach from its stand. In addition to boasting adjustable height and tilt, it can also be rotated into portrait mode, and its single-cable (Thunderbolt 3) design should keep your desk space at least relatively free from clutter. The Mac Pro can connect to up to six of these displays at once, but this is where the painful part comes in.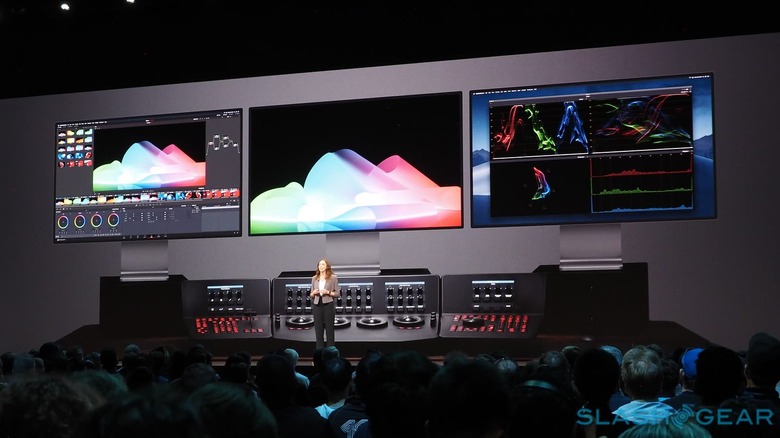 The Pro Display XDR will start at $4,999 when it launches this fall, which definitely isn't cheap and doesn't even count the extra cost for that etched glass that emulates a matte display. The Pro Stand runs an additional $999, while the VESA mount adapter is $199. Make no mistake, this is a super high-end display that's priced out of the range of most people, and outfitting a Mac Pro with six of these displays is going to be a very expensive endeavor indeed.