Apple Media Event Livecast Transcript - Aug 7th 2007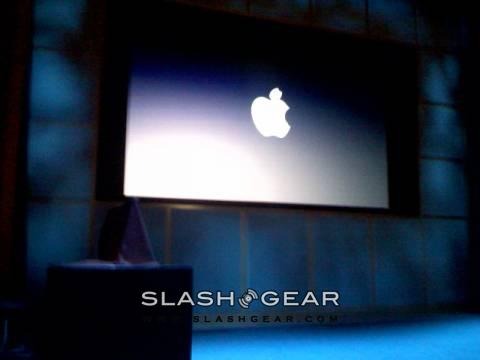 Steve walks in and welcomes everyone to the event. We will start off talking about the Mac, it's been an incredible last 12 months. the growth has grown 3times as fast as the industry. "We've got a clean product line", today we are going to focus on the iMac.
Steve makes fun of a PC
a much better way is the iMac
the iMac has been really successful
"we will make it even better" using aluminum because it's professional and durable
also recyclable
second element is glass
it's elegant
and desirable
the new iMac is much thinner before
(I'm not allowed to take pics where i am sitting)
you can also add memory
with just one screw, there's only one visible screw
20-inch display and 24-inch display
both are glossy —- customer told apple they love glossy display
"they look way better on glossy display"
new keyboard is much smaller
thinner
.33-inch
vs .89
there are special dedicated keys
media transport controls
right on the keyboard now
wireless option?
new wireless keyboard is compact
super thin with Bluetooth 2.0
and feature dedicated keys as well
Intel core 2 dual
2.4GHz
up to 4GB of memory
ATI Radeon HD graphics
up to 1 TB of storage
802.11n+BT
all built-in
17, 20 and 24 —
24-inch = $1799!!!
better product at $200 less
20-inch $1499
17-inch going away
another 20-inch at $1199
Consumers told Apple they love aluminum and glass – Steve is reiterating
so the new iMac is a mixture between professional and consumer
there's a new ad
that will be running in a few days
there are a bunch of new iMacs twisting and turning,
"The new iMac"
(everyone claps)
after the presentation, the new iMacs will be available
alright...the next thing
is Applications that run on
the hardware
today, apple introduce iLife 08
the biggest jump in iLife since the first
intro many years ago
this year, apple dramatically enhancing and replacing to take to a new level
iPhoto is going to a whole new level
1-Events,
Steve talks about the issues around dealing with thousands and thousands of images
the solution "was" to create albums
they are centered around events —- such as birthday, ski trip etc
iPhoto will automatically take "events" and do it automatically
it's all about events
you still get the photo view, but on top is the "Events" view
~50 photos per event
what that means is you no longer need to look through thousands, you now only have to look through 100 or so
which photos go through the events?
All photos taken in one day
makes up an event
so what happens when you go to a bday in the morning and then wedding at night?
Split and Merge
simply by taking one and move
or select a bunch then merge the same event
2- Hide photos – this looks trivial but important
since you may not want to throw them away
you can simply hide them then later bring them back
3-unified search
dates, keywords, ranking
then sorts them
4-more powerful editing tools, ie. adjust photos by copying and pasting adjustments to other photos
5-theme base photo printing
6-new books and calendars
(very neat)
Demo — starting now
oooh ahhh, new iMacs
(two of them — -sorry no pics)
Steve demos 5000 photos, huge library
there are 104 events out of over 5000+ images
Moving the mouse over the photo you can "skim" all the photos
(Steve made a point they've applied for patents — everyone laughed)
once in the event, another way to look at an image is to double click to preview the photos
Steve demos how to split two events
simply click on one image from the series and it splits into two events, birthday and wedding
merge events simply by select two events then select merge
or select one then put it on top of the other
hide and show images intuitive to use keeping the gallery uncluttered
concluded the demo of iPhoto
.Mac
please to announce 1.7M .Mac subscribers
iPhoto + .Mac = .Mac web gallery
"hand in a glove"
what does it do?
1 button photo sharing to publish
your photos to .Mac web gallery
Rich "web 2.0" experience
grid, slide show, mosaic and even in carousal
works on windows IE, safari etc
Print-quality downloadable
People can contribute from anywhere
there's a special email address and email the images
then the images will appear and then syncs right to your gallery as well
Great iPhone Experience
take an image with your iPhone and there's a new option on the iPhone to send to your .Mac web gallery
it also syncs automatically with your system
you can also view other's .mac web gallery right on your iPhone
Steve demos .Mac web gallery
options allow you to select who can view the gallery
once the selections are made, the images get uploaded automatically if you're connected to the internet
"skimming" is available right on the web "true web 2.0 app"
quick quiz....do you remember what the "skimming" feature does?
images are viewed as slide shows, grid, carousal, mosaic
demoing how easy it is for others to contribute
Phil just sent Steve a photo via his iPhone right into the .Mac web gallery
concluding the .Mac web gallery (everyone claps loudly)
NEXT up
iMovie (per Steve this is very interesting — there's a story)
a brilliant engineer went on a well deserved vacation
he wanted to make a quick 5 min movie but it's too darn hard
luckily he knew final cut pro but still didn't know how to only spend 30 min to make a 5-min away
Steve was blown away when he say it
THIS IS NOT AN ENHANCEMENT to iMOVIE!!
it's a whole new app with a whole new
1-one library for all your video
you can scroll through all of them similar to iPhoto
it takes movies from all sources even the AVCHD!!!(much better than any)
Steve talks about the Panasonic AVHD $799
2-Skim to preview too!
holyshit — skimming on video rock!
no longer need to open the file to view!
3-Supr fast movie creation
simply select videos and build a movie "almost instantly"
4-polish quickly
5-view and share videos anywhere
You can watch the videos literally anywhere on any devices or on the web
.Mac web gallery also supports video
.Mac web gallery shows video instantly
you can also send it to YouTube and it encodes automatically!
Steve demos iMovie 08
if you're trying to find something fast, "skimming" is an amazing feature
starting and stopping the camera creates a separate clip
"Drag media here to create a new project" simply drag and drop clips and iMovie takes care of the rest
by default it selects 2-secs
you can also grab the hooks and extend the length of the video
Adding a title by simply drag and drop, same with adding a sound trap
watching Steve's movie "Snowboarding on mt hood"
the large size is even better resolution than the dvd
per Steve "no longer sending dvds to grandma"
these videos are downloadable
concluded the iMovie demo
the large size is even better resolution than the dvd
per Steve "no longer sending dvds to grandma"
these videos are downloadable
concluded the iMovie demo
Next up is iWeb
enhanced version
1-live web widgets
for example drag and drop Google maps
or grab any html snippets
copy and paste into the website
2-Google adsense
decide which format you want then ads show up
3-Media index page
pick and index page, drag and drop content
4-Personal domain support
5-Theme switching
dynamically change the way your website look and feel
iDVD
believe it or not there are still people who wants to make them
better performance
theming is added
(Steve is breezing through iDVD)
lastly is Garageband
multi-take recording, visual eq automation
Steve's fav feature is magic garageband
demoing magic garageband
iLife 08 is $79
iLife ships free with all new macs starting today
10GB of online storage $99.95 per year subscription service (everyone claps)
now leaves iWork
Apple has sold 1.8M copies
iWork '08
dramatically enhanced
Keynote
-text affect, bouncy, etc
new transition
color planes, confetti
Instant Alpha
lets you take out the background
only use what you want in keynote
Smart Builds lets you create instant high value animation
drag photos or anything, to create turntable, spinning cube etc
A to B animation is now available and easy for mere mortal to use
New themes : possible to add animations to the new themes
NEXT, Pages
-Distinct word processing and one for page layout modes
-contextual format bar has been added
140 apple-design templates
Steve is demoing Numbers
iWorks '08 is available today and cost $79
Check out the new iMac at Apple.com, there's a new iLife '08 Guided tour