Apple launches 'Complete My Season Pass' for TV shows on iTunes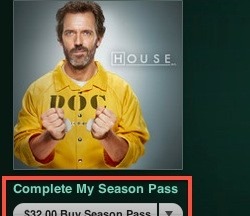 Until recently, Apple has only offered a music-oriented "Complete My Album" feature in the iTunes Store to allow users who have previously bought individual songs to upgrade to the full album at a discounted price. However, users have not had a similar option for TV shows, until now, that is. Apple has just launched the new feature for TV shows, not surprisingly dubbed the "Complete My Season Pass" feature, and it's now available in the iTunes Store.
MacRumors reports that when a user's logged in and is viewing an iTunes Store page listing for a particuar season of a TV show, the Season Pass purchase price will be reduced by the number of previous single-episode purchases, allowing users to have access to the full season, without having to basically repurchase the episodes they had previously acquired singularly. If you've used the Complete My Album feature for music in iTunes, then this is essentially that, well, for TV show episodes/seasons.
Season passes for TV shows will usually be priced at a steep discount, compared to purchasing each season episode separately. It's about time that Apple finally released this feature for the iTunes Store, just in time for the holiday season. So curl up with your loved ones and some hot spiced cider, and enjoy an entire season of your favorite show, instead of only a couple episodes.
[via MacRumors]