Apple iSlate - Irrefutable evidence that's the name of the new tablet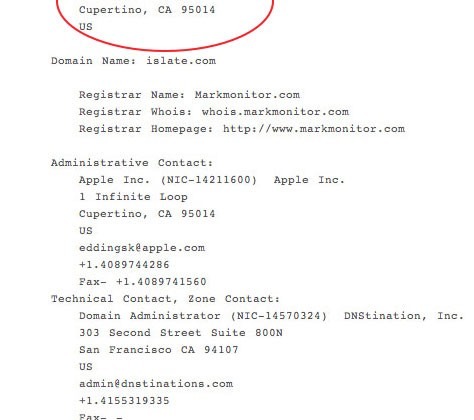 Yes, it's Christmas but this Apple rumor is too juicy to wait. It's true; Apple's tablet may indeed be called iSlate! MacRumors discovered via historical evidence that Apple purchased the domain name iSlate.com from Data Docket, Inc. in 2007. Mark Monitor manages domain names for many companies, including Apple. Even though the true identity of the domain name was set to private, there was a small window where Apple's ownership info was exposed and then changed back a few weeks later. iSlate.com doesn't point anywhere for now, but there are lots of speculations of Apple announcing a tablet early 2010.TechCrunch dug a lot deeper and found other iSlate domain names registered around the world.  The United Kingdom is a big market for Apple – Mark Monitor also manages the iSlate domain name islate.co.uk. It's the same company that also manages the iSlate domain names iSlate.jp and iSlate.cn, while in France iSlate.fr is managed by a Paris-based IP property attorney firm called Wilson & Berthelot. This company named Mark Monitor as the technical contact for the islate.fr domain name.
The plot thickens with the iSlate trademark here in the United States. Back on November 21, 2006 a company called Slate Computing filed for a US word mark for 'ISLATE'. Interestingly, it's roughly the same time frame of when the last three islate-related domain names were registered.
Computers; computer software, namely, database management software, electronic mail and messaging software, Internet browser software, paging software, database synchronization software, software for accessing, browsing and searching online databases, software for creating spreadsheets, tables, graphs and charts, software for organizing and analyzing data, software for word processing, software for creation and display of presentations including text and graphics, software used for image editing, image processing, image acquisition, image file management, image viewing, image sharing, and the creation of documents incorporating images, software for use in developing websites, software to help users create, edit, organize, search, transfer, publish and subscribe to weblogs, blogs, podcasts, web broadcasts and news and information feeds on global and/or local computer and telecommunications networks, software for use in authoring, downloading, transmitting, receiving, editing, extracting, encoding, decoding, playing, storing and organizing audio, video and still images, software for authoring digital content, software for personal information management, software for DVD authoring, software for the electronic storage and retrieval of electronic calendar files, software with clock and alarm clock functionality, telephony management software, character recognition software, application development tool software for personal and handheld computers, software for the redirection of messages, Internet e-mail, and/or other data to one or more electronic handheld devices from a data store on or associated with a personal computer or a server, and software for the synchronization of data between a remote station or device and a fixed or remote station or device; computer operating system software; computer utility software; computer peripherals. notebook computers; laptop computers; tablet computers; computer servers; handheld computers; mobile computers; hard drives; audio speakers; speakers for computers; radios; cameras; video cameras; telephones; mobile telephones; personal digital assistants; electronic personal organizers; electronic notepads; blank magnetic data carriers; computer gaming machines; microprocessors; memory boards; computer monitors; keyboards; computer input devices, namely, touch screens, styluses, mice, trackballs and shuttle dials; computer cables; modems; printers; computer accessories, namely, computer battery chargers, battery packs, docking stations, adaptors, computer wired and wireless remote controls, audio headphones and earphones, and replacement parts for all the aforesaid goods.
Everything is pointing to an Apple iSlate. If rumors are true, the announcement could come as early as January 26th, 2010.