Apple Grabs Two-Thirds Of Mobile Phone Industry Profits

According to a new report, Apple's profits have now soared to become an astonishing two-thirds of the entire mobile phone market. This observation comes from Asymco's Horace Dediu after gathering data from the latest quarterly earnings reports from all the major mobile phone vendors.
From earlier today, we already know that Apple blew past Nokia to be the number one smartphone manufacturer, according to Strategy Analytics. Holding an 18.5 percent market share, Apple is followed by Samsung with a 17.5 percent share and then Nokia with 15.2 percent. But that's looking at unit shipments, wait till you take a look at profit comparisons.
From what Dediu has gathered, the latest quarter saw a decline overall in the profits of the mobile phone sector, with four of the major vendors—Nokia, Motorola, Sony-Ericsson, and LG—all reporting losses. Of the other vendors that did see gains, Apple chomped 66.3 percent of the pie, followed by Samsung with 15 percent, RIM with 11 percent, and HTC at 7.4 percent.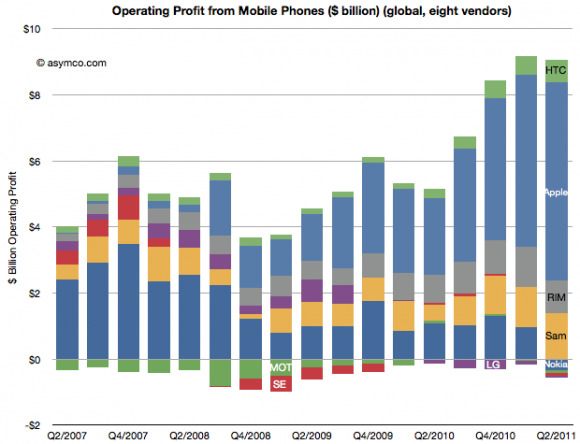 [via Asymco]