Apple Digital AV Adapter will work with iPad, iPad 2, iPhone 4, and iPod touch 4G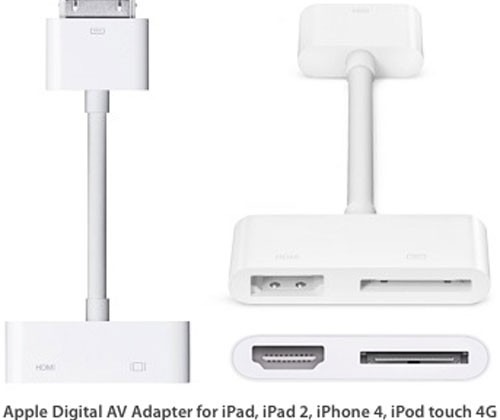 If you follow the launch of the iPad 2 yesterday, you may have seen a few of the new accessories as well. One of these new accessories is the Apple Digital AV Adapter that is able to shoot what you see on the screen out to your TV. The adapter has an HDMI port and the port you see right beside is for connecting your charge and sync cable to keep your gadget going while using it on the big screen.
The adapter supports up to 1080p and will work with the iPhone 4, iPad, iPad 2, and 4G iPod touch. With the thing plugged in you can use it to see anything on the big screen that is on the screen of your iPad. This sounds like a good way to watch Hulu Plus on your big screen.
The adapter supports up to 1080p content when used with the iPad 2. If you plug it into any of the other devices, it only supports up to 720p resolution. The adapter sells for $39 and you have to provide your own HDMI cable.
[via MacDailyNews]