Apple Demos GarageBand For The iPad 2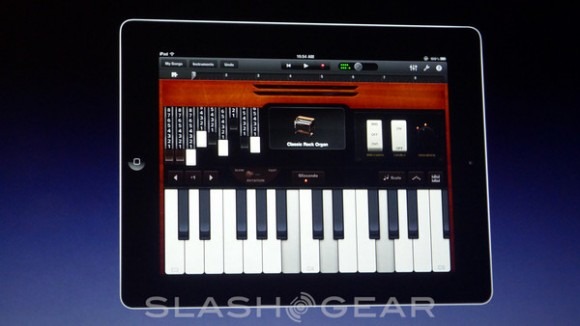 Apple's director of music marketing, Xander Soren, demoed a new GarageBand app for the next-gen iPad. This new app now makes music and creativity an easy part of your life on the go. Once only available on your Mac desktop or notebook, now you can transport your instruments with you for creative rifts that you can save and share on the new ultra thin iPad 2.
The GarageBand app features a whole slew of different instruments that you can select to play. It also has Smart instruments that can teach you to play if you do not already know how. Using the accelerometer feature, the app can recognize different pressures applied and hence play different sounds accordingly.
Octaves can be altered by tapping through the notes and tones can be changed using little sliders. The music you create or record using the app can also then be edited and mixed, with creativity your only limit. The music you make can then be emailed to friends or sent to your iTunes library.
"Anyone can make music now, with something this thick, and only weighing 1.3 pounds," says Steve Jobs. "I cannot tell you how many hours teenagers will spend, making music with this."
GarageBand for the iPad 2 will be available March 11th for $4.99.