Apple confirms Wi-Fi issue on some third gen Apple TVs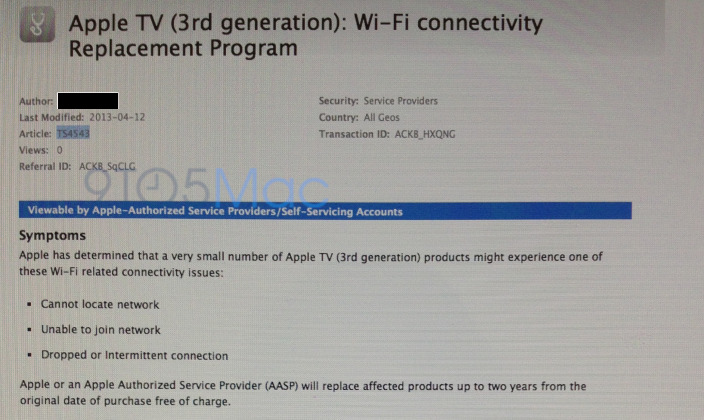 Apple has officially confirmed that a small number of its third-generation Apple TV set-top boxes are having an issue with Wi-Fi. The Wi-Fi issue affecting units lead to the Apple TV being unable to locate a network, unable to join the network, or the device may drop connectivity or only have an intermittent connection. Apple is promising to remedy the situation for affected owners.
Apple says that it or Apple Authorized Service Providers will replace the affected products for up to two years from the original date of purchase at no cost to the buyer. An Apple certified technician does have to determine that one of the three issues covered is causing the Wi-Fi problems.

Once the technician determines that the Apple TV is suffering from one of the problems, the unit will be replaced as part of a replacement program Apple has launched. Only specific serial number ranges for the third-generation Apple TV set-top boxes are covered in the replacement program. The serial numbers must have two specific alphanumerical ranges to be covered.
The last four letters of the serial number must be DRHN. The serial number must also have specific third and fourth alphanumeric characters including one of several pairs. The second image above shows eligible third and fourth alphanumeric character pairs.
[via 9to5mac]