Apple celebrates decade of iTunes movies with special bundles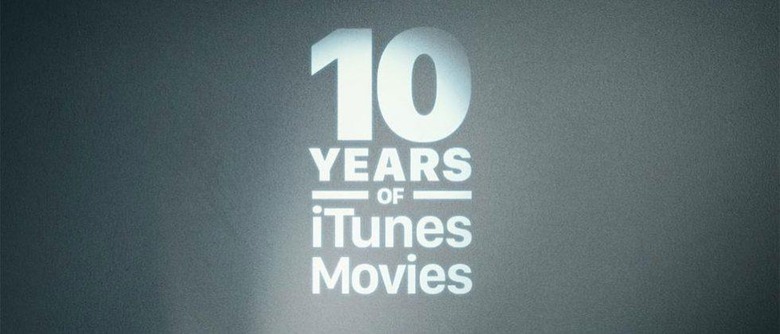 It may not seem like it to many people out there but Apple has now been shilling movies on iTunes for a decade. To celebrate the tenth birthday of iTunes movies, Apple has put together bundles that offer fans ten movies for only ten bucks. There are six different bundles that movie fans and choose from and they can be had in SD or HD for the same $9.99 price tag.
The bundles include a Warner Bros. movie pack featuring "The Judge", "Live Die Repeat: Edge of Tomorrow", "Pacific Rim", "Magic Mike", "Contagion", "The Town", "The Hangover", "Sex and the City: The Movie", "300", and "Superman Returns". The Universal Studios bundle includes "Ride Along", "Identity Thief", "Rush", "Snow White & The Huntsman", "The Adjustment Bureau", "Little Fockers", "It's Complicated", "Forgetting Sarah Marshall", "Knocked Up", and "Inside Man".
The Paramount bundle features "Whiskey Tango Foxtrot", "Selma", "The Wolf of Wall Street", "Flight", "No Strings Attached", "The Fighter", "Up in the Air", "Tropic Thunder", "The Curious Case of Benjamin Button", and "Zodiac". The Sony Pictures bundle packs "The Monuments Men", "Captain Phillips", "To Rome With Love", "Moneyball", "The Social Network", "Easy A", "Julie & Julia", "Nick & Norah's Infinite Playlist", "The Pursuit of Happyness", and "The Da Vinci Code".
Lionsgate gets a pair of bundles with the first called Lionsgate 1 featuring "Divergent", "Now You See Me", "Warm Bodies", "The Perks of Being a Wallflower", "Margin Call", "Warrior", "The Switch", "Kick-Ass", "Twilight", and "No Country for Old Men". The Lionsgate 2 bundle features "Ender's Game", "Mud", "The Impossible", "Arbitrage", "The Cabin in the Woods", "The Hunger Games", "The Expendables", "The Cove", "Gone Baby Gone", and "The Queen". All of these movie bundles are available now and will be gone soon so movie fans will want to hurry and purchase.
SOURCE: Twitter