Apple blocks out-of-date Flash Player in Safari, tells users to update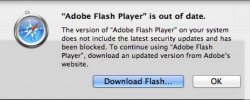 It's no secret that Flash can be a security liability, with Adobe having again rolled out critical updates in recent weeks to patch vulnerabilities that left users at risk. Not every user updates when the patches are released, however, instead continuing to use an older, potential vulnerable version. In light of this, Apple has taken another step towards keeping its users safe.
Just as it did previously with Java, which is widely known for its security vulnerabilities, Apple has now blocked out-of-date Adobe Flash plugins on Safari. The change has already been implemented, and so when users attempt to access Flash content using an older version of the plugin, they will instead be present with the notification box in the screenshot above.
The user will be notified that he or she is using an outdated version of Flash, and will be provided with a link to download the latest version. Once downloaded, the Flash content will be loaded and all will be well. While some might consider this to be an inconvenience, it has been implemented in light of critical security issues with Flash Player.
On Tuesday, we reported that Adobe has rolled out an emergency update for Flash Player to patch security issues that allowed hackers to attack users running Firefox. On February 14, Adobe had also rolled out updates to its Acrobat and Reader to correct vulnerabilities that were actively being exploited in the wild.
[via ars technica]