Apple App Store Brings In Almost $200 Million From App Store -- A Month

Some times there's just news that seems too huge to believe, and this would be one of those cases. Let's take a look at the last few months in our government, and the fact that recession was thrown around at least a few times, makes it seem almost ridiculous the findings from AdMob. Sure, things looked better in July than they had in the past, but still. In any case, Apple shouldn't be anything less than ecstatic about the results.
AdMob based the reports on usage behavior found on a variety of applications and web sites across its ad network. For July, the report combines AdMob network data with over 1,000 iPhone, iPod Touch, and Android users. The results show a pretty wide spectrum from the AppStore and Android's Marketplace, but no matter what, it is pretty revealing (and for many, not surprising). And while some may be asking why there is any focus on the iPhone at all, that would be because "the iPhone represented 60 percent of US smartphone usage in AdMob's network in July 2009, followed by RIM and Android devices at 13 and 12 percent, respectively."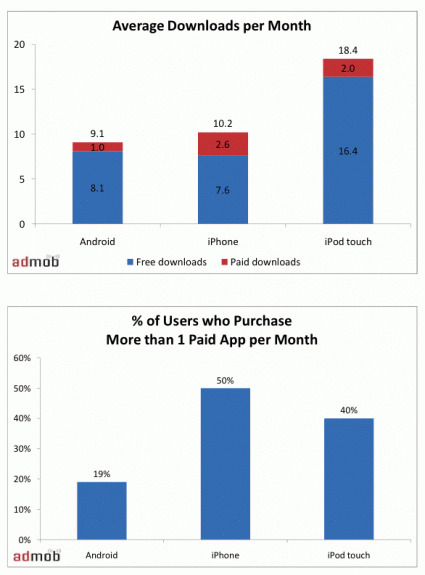 Some key things to take away from here: each month, iPhone and Android device users download about 10 new apps a month, while iPod Touch users download around 18 per month; almost 50% of iPhone users and 40% of iPod Touch users download more than one paid app a month, while only 14% of Android users do the same; and probably the best part, is the fact that people actually enjoy spending money on micropurchases for their smartphones, after they've had a chance to try them for free. Are you one of those people? How much do you spend a month, and are you using one of Apple's babies, or are you one of the Android fans out there?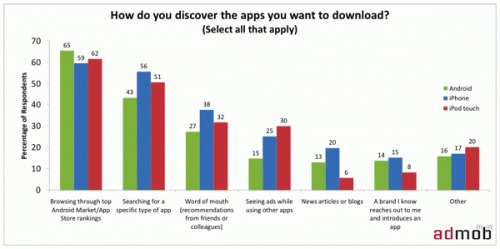 [via GigaOM]