Apple Accessories At Staples Are Available Now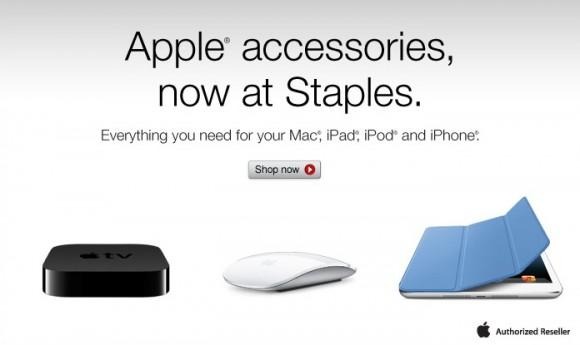 Earlier this month, Staples announced that it would become an official Apple reseller and would begin selling Apple products in its stores and online in the US. Today is the first day that Staples has begun selling Apple merchandise, and it seems they're starting out small for now, offering only accessories and other smaller products like the Apple TV and AirPort devices.
Staples has a bevy of products available, including the Magic Mouse, iPad Smart Covers, EarPods, Bluetooth keyboards, and Lightning cables. Apple products are only available on Staple's website for now, and it's not known when the chain will begin offering Apple products in-store. The company will eventually begin selling Macs and iPads, but they will only roll out to a select number of high-volume stores at the beginning.
This marks the first time that Staples stores in the US have been able to sell Apple products. The chain's Canadian stores have been selling Apple products for years, so it's finally nice to see the company's US locations getting the same treatment this time around. With the addition of Staples in the US, it makes it easier to buy an Apple product in person if you don't have an Apple Store or Best Buy nearby.
Prices for Apple products available at Staples don't seem to be any cheaper than what you'd normally find them for at an Apple Store, which isn't too surprising really. However, it's possible that — like Best Buy — Staples will discount some of its Apple products during special sales throughout the year, something that Apple doesn't do very often.