Apollo 11 command module begins nationwide tour next year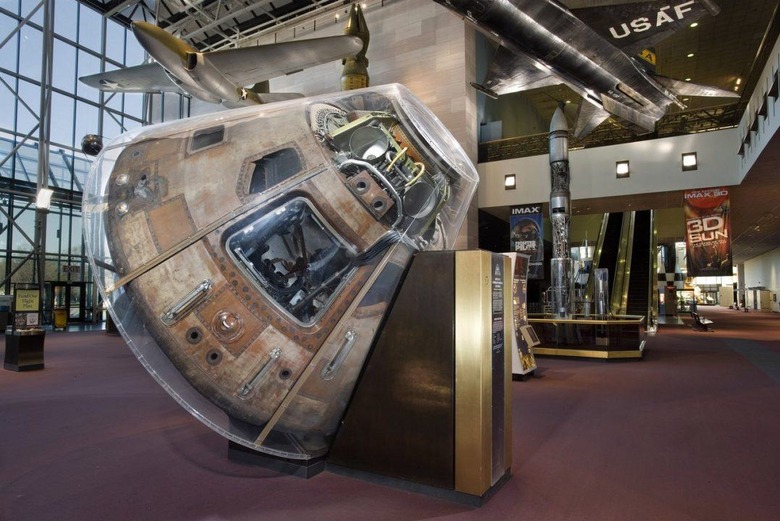 2019 will mark the 50th anniversary of the Apollo 11 space mission, in which Neil Armstrong and Buzz Aldrin became the first humans to set foot on the Moon. In celebration of this anniversary, the Apollo 11 command module, which is named Columbia and flew those two astronauts and Michael Collins to their lunar destination and back, will kick off a nationwide tour that will give people around the US a chance to see it in person.
The tour is actually going to get underway in 2018 and stretch into 2019. Though the Apollo 11 spacecraft featured three parts – the command module, the service module, and the lunar module – the command module is the only piece that landed back on Earth. The service module was separated from the command module upon reentry into Earth's atmosphere, while the lunar module was left to orbit the Moon before eventually crashing into its surface.
The command module has been at the Smithsonian's National Air and Space Museum since 1976, and this will be the first time it's left. Unfortunately, it'll only be visiting four locations during its tour of the US, but it will be at each location for months at a time. Here are all of Columbia's stops during its 2018-2019 tour:
- Space Center Houston — Oct. 14, 2017–March 18, 2018

- St. Louis Science Center — April 14–Sept. 3, 2018

- Senator John Heinz History Center, Pittsburgh — Sept. 29, 2018–Feb. 18, 2019

- The Museum of Flight, Seattle — March 16–Sept. 2, 2019
With this schedule, the command module will be at Seattle's Museum of Flight during the 50th anniversary of the Apollo 11 landing, which happened on July 20, 1969. While it might be difficult for many to make it out to see Columbia, you may want to give it a shot, as it isn't likely to go on tour again any time soon. Once the tour has finished, it's back to the Smithsonian for Columbia, where it will be featured in a 2021 exhibit called "Destination Moon."
SOURCE: NPR