Anthem Demo Open To All Players This Weekend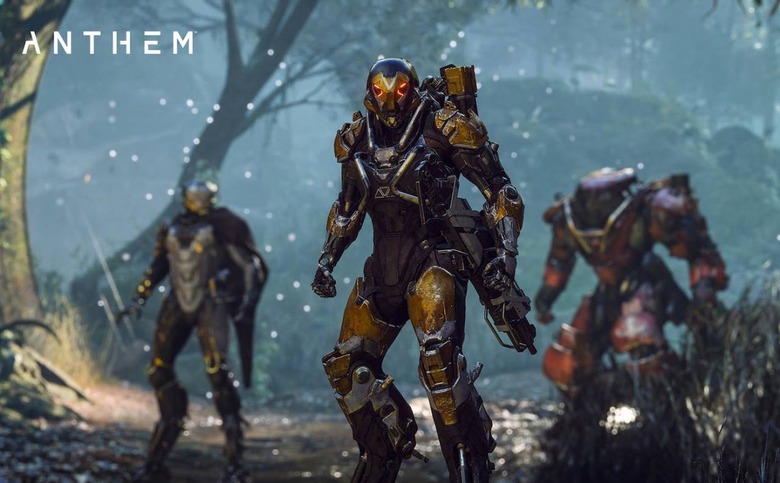 This weekend sees the release of another demo for Anthem, the multiplayer third-person shooter/RPG from BioWare and EA. But unlike last weekend's "VIP" demo, which got off to a rocky start thanks to heavy server loads and other technical difficulties, this weekend anyone can give it a try on PS4, Xbox One, or PC, getting a taste of the game before its release on February 22nd.
Anthem's open demo is now live for all three platforms, and will be available until February 3rd at 6pm PT/9pm ET. On PC, the demo is a hefty 44GB download, and will require players to have an EA or Origin account. On console, the demo is only 26GB, but as Anthem is an always-connected online game, players will need an active subscription to Xbox Live Gold or PlayStation Network.
The demo includes missions that are set roughly halfway through Anthem's story campaign, limited access to the game's world map in freeplay, and a four-player activity called Stronghold. As a Freelancer, players will pilot one of the game's four Javelins, or powerful exo-suits that enable flight and come with a variety of different weapons and abilities.
Players will start the demo with the Ranger Javelin, the basic, starting suit that offers a little bit of everything when it comes to armor, weapons, and support abilities. There are three other Javelins to unlock, but only one can be chosen for the duration of the demo: Colossus is slow and tank-y, but comes with the most powerful weapons and armor; Interceptor trades armor and power for speed and melee attacks, allowing it to close the gap between enemies for quick damage; and Storm, which has a force field and specializes in long-range attacks.