Anonymous email service 'Leak' ready for the masses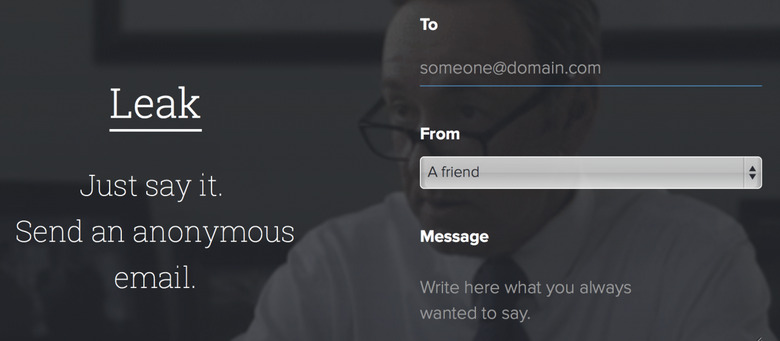 Sometimes, it needs to be said. Whatever "it" is, you need to tell someone, but how can you do that without being the one to confront them? A new service called Leak lets you send emails anonymously, all from a web page. Simply put in an email address, and your relationship to that person, and away you go.
Originally called Whisper — and we're sure you can see why they changed their name — Leak brings anonymity to the first; social frontier. Email isn't going anywhere, and just about everyone has it. It's also a direct line of communication, whereas some other anonymous messaging services simply let you scream into the void.
The upside is that you can tell someone helpful things anonymously, even suggesting things that they might be overlooking. Maybe a friend is acting a bit foolish, and needs to be brought down to earth. There are many ways Leak becomes positively effective.
There are also ways it becomes terribly offensive. Bringing trolling to email is likely going to affect many negatively. Leak is pretty barebones, lacking many of the email bells and whistles we have come to take for granted. If you need to fire off a quick flirt or kudos, though, this might be the best way.
Via: TechCrunch