Animal Crossing: Pocket Camp Has A Surprise For iOS And Android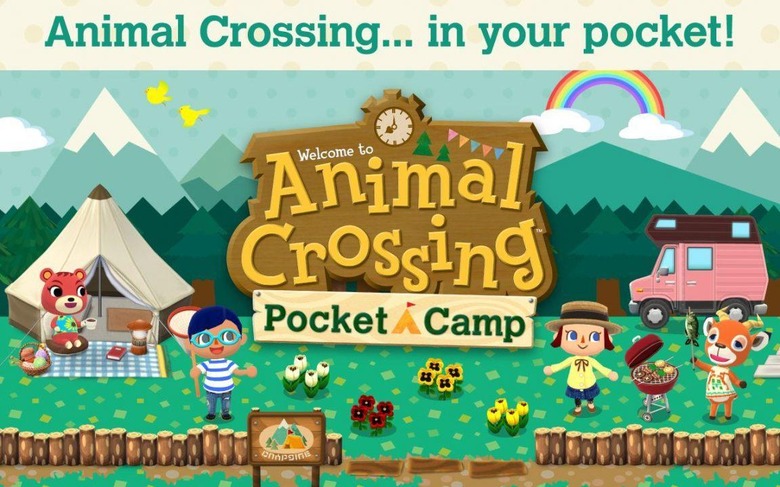 Well, this is a pleasant little surprise: just a day after announcing the release date for Animal Crossing: Pocket Camp, Nintendo has launched the game early. Animal Crossing: Pocket Camp is now live on the iOS App Store and Google Play Store, launching a day earlier than its originally announced release date of November 22. This is true at least for the US, though this roll out is likely happening across multiple regions.
Animal Crossing: Pocket Camp is the latest in Nintendo's line up of mobile games. Throughout this string of releases, Nintendo has been looking for the perfect formula to make some cash from its mobile releases. Though Fire Emblem Heroes seems to have found success with its free-to-play model, Super Mario Run's free-to-start model ultimately disappointed Nintendo executives in terms of profits.
When you first boot up Animal Crossing: Pocket Camp, you're told that the game is similarly free-to-start. The game's free-to-play system seems to be based around Leaf Tickets, which can used to do things like speed up furniture projects that are in progress. We won't know how crucial Leaf Tickets are to the progression of the game until we dive a bit deeper into it, but for now, it seems that Pocket Camp emulates Fire Emblem Heroes more than it does Super Mario Run.
In any case, if you liked previous Animal Crossing games, this one is probably worth at least a download. Fan favorite characters from the console and handheld games are present in Pocket Camp, and the game is centered around typical Animal Crossing tasks like collecting fruit, bugs, and fish to complete challenges.
It'll be interesting to see how Animal Crossing: Pocket Camp performs, given the series' very enthusiastic fan base. Considering that it's been four years since New Leaf launched, fans have been craving a new game, and Pocket Camp should fill that gap rather nicely while we wait for Animal Crossing to eventually make its way to the Switch. We'll have more coverage of Pocket Camp coming up, but in the meantime, check it out for yourself on Android [download] or iOS [download].