Angry Birds plush characters announced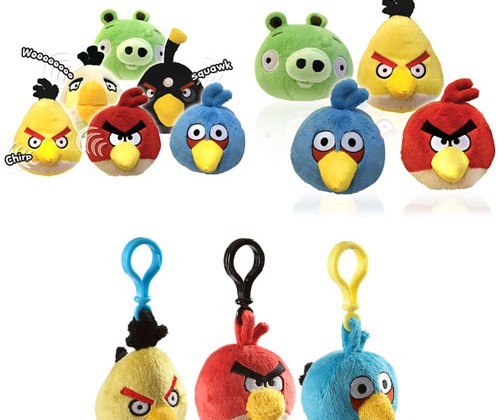 Of all the mobile games that I have on my iPad and on the iPhone, my daughter loves Angry Birds the most. The first thing I had to do when the Galaxy Tab came in was add Angry Birds to it as well. The game is a lot of fun, even if it can get frustrating on some levels after you try to beat the stupid pigs a hundred times.
A company in the UK called Firebox has announced that it will be offering a full series of Angry Birds plush toys. In other words, these stuffed animals look like the birds and the pig in the game. The largest of the offerings are 8-inch plush animals in blue, red, and yellow birds or the green pig for £9.99 each.
The company also has backpack clips with the blue, red, or yellow birds for £3.99 each. To really annoy parents they also have some mini Angry Birds plush animals that have sound effects. You can get them in black, blue, red, white, and yellow birds as well as the green pig. The sound characters are £4.99 each. Shipping is included in the price, presumably in the UK. All of the plush animals are up for pre-order and will ship on March 1.