iOS 8 brought a lot of fancy new stuff to the iPhone, some of which seem like a good idea for any mobile platform. But rather than gnash their teeth in envy, Android users can still get some of those benefits on their smartphones as well. No, we won't be theming Android to make it look like Apple's smartphone. There are a lot of those already out there. What we will do here is to take a look at some of those nice features and show how Android lovers can them too.
iOS 8 makes Today your best day
The latest iOS release added a Today tab to the notification drawer. This served two purposes. One, it freed the notification panel from anything other than notifications. Second, it gave iOS users some semblance of "homescreen widgets" that Android users love to flaunt. Today simply puts your today in focus, giving you the time, date, weather, and everything else to rein in your schedule. That can be your calendar, your todo list, your notes, or your reminders. Pretty much like widgets. The iOS way has one distinct advantage over Android homescreen widgets, however. It can be called from anywhere, even within apps. You can take a quick glance at your schedule without batting an eyelash. You can add a new todo item or a calendar event without first having to go home and then navigate to your app. It's all there just one swipe away.
Another thing that is just one swipe away is the Control Center. Swipe up from the bottom and you get access to the most important settings and toggles and to your music controls. It even has shortcuts for camera, torch, alarm, and calculator. To be fair, Android has had that for quite a while, but it was, at the very least it required either two fingers or a swipe and tap. OEMs and custom ROMs, of course, injected their own ease of use into it, but plain Android remained a step away. Android Lollipop even changed the game by making you swipe twice now.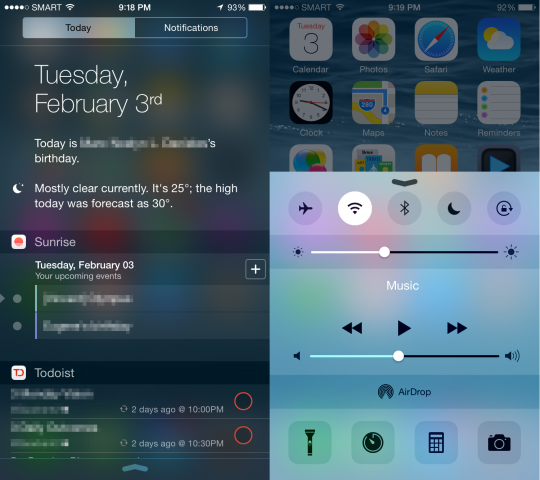 Some of these look small and almost trivial, but that is sometimes where Apple is lauded the most: pouring attention over the tiniest details to make sure that no cracks will start chipping away from the fragile beauty of the platform. The good news for the Android faithful is that they too can have some of these. All they need is to install, or buy, some apps. And perhaps make a few concessions in prettiness.
The App Way
There are several ways to get these features inside Android, and you can use any combination you prefer, which adds to the beauty of the solution.
One method involves filling up Android's notification drawer with shortcuts and information so that you can also get your Today at a glance. Need to always be aware of the weather for today or for the next 4 days? Just install the free Notification Weather app and you can put that right at the top of your list. Itching to know your schedule without leaving your reading? Status Agenda gives you all your Android calendars, ready to be viewed when you swipe down.
Quick controls are somewhat trickier. You can also opt to put them in a world of their own in the notification drawer ala Samsung's TouchWiz skin, thanks to the Notifications Shortcuts app. You can even configure what's in there and, for a price, put as many rows as you like. But if you really want to do it like Apple, you can take Quick Control Panel for a spin and tweak it to your taste. Sadly, this particular app hasn't seen much action lately and may crash on Android 5.0 Lollipop.
Both solutions are quick and easy but they have their drawbacks. They can clutter an already cluttered notification drawer and, in the case of Quick Control Panel, conflict with existing gestures. Another way is slightly less conventional and may not exactly be pretty. It involves installing sidebar panels that you can invoke with a swipe from the edges of the screen. Given the left side of the screen is usually reserved for app menus, the right side is the better hotspot option. If you prefer a simpler, more direct, but plugin-based approach, Sidebar Launcher has been in circulation for quite a while now. But if you want to go wild with full control, even going as far as embedding actual Android homescreen widgets, Sidebar Plus might be more to your taste. Both, however, hide their full potential behind in-app purchases.
Wrap-up
This very short excursion into Android app land does more than show how you can emulate iOS features inside Android. It also shows how much users and developers can bend, twist, and even break the platform to go beyond the limits. Whether that's a good thing or not is something for the user to decide. Android can hardly be considered perfect, but in terms of options, tweaks, and customizations, it can and does embrace all, even those who have a penchant for fruit.