Android Lags iOS in Mobile Advertising Revenues

Android may be gaining marketshare, now powering 33 percent of U.S. smartphones, but it is behind iOS in mobile advertising revenues, according to Millennial Media. iOS-based applications account for 47 percent of Millennial revenues in March of 2011, with Android close behind at 36 percent. However, Android is ahead of iOS in mobile ad impressions. Find out more about this interesting trend after the cut.
The numbers are almost flipped for mobile ad impressions, with Android at 48 percent, and iOS at 31 percent. This would seem to indicate that ads on Android cost less per impression, and are not considered as valuable to advertisers as iOS ads. By far, the most impressions are on smartphones, at 64 percent, with feature phones accounting for 19 percent of impressions.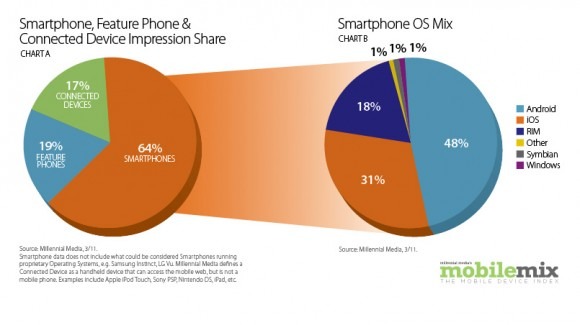 And mobile games are also a hot property for advertisers, accounting for 37 percent of all ad revenues.
Both Android and iOS are growing fast, with Apple impressions growing 29 percent month over month, and Android growing 23 percent month over month.
You can download the full report here.
[via Fierce Mobile Content]