Android Is Now Running On 2 Billion Devices Around The World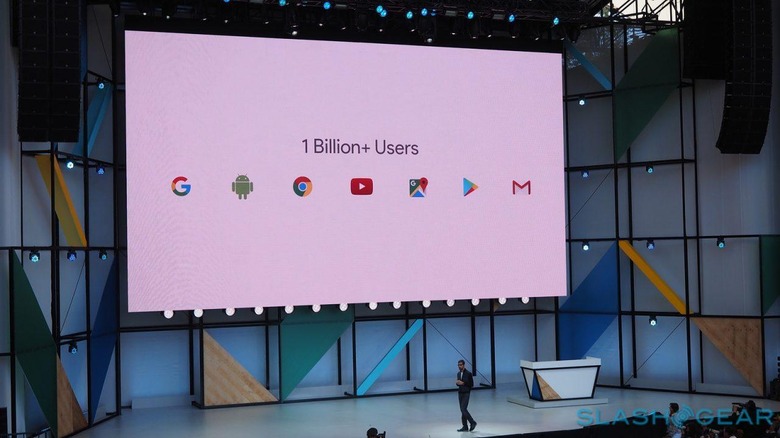 Google CEO Sundar Pichai just took the stage at Google I/O 2017, and he's starting the presentation off with a bang. After touching on the scale of this year's event, he shifted to focus to the services and products that Google offers. As it turns out, many of Google's services have hit important milestones, especially Android, which just hit 2 billion active devices around the world in the past week.
That's pretty impressive, and it further shows Android's dominance in the mobile space. Android has been the dominant phone OS for a while now, but to hear that it's now running on 2 billion devices around the world puts just how huge it is into better perspective. Naturally, the Android robot is pretty happy with this news as well, with Google showing a video of the mascot dancing behind Pichai.
Android isn't the only Google service enjoying a massive group of users. Overall, Pichai says that six other Google services can now boast over one billion monthly active users each: Google Search, Chrome, YouTube, Google Maps, Google Play, and Gmail. Pichai pointed out that it's not just the number of users these services have attracted that's important, but also how much they use them. For instance, YouTube's 1 billion users stream 1 billion hours of video per day, an impressive metric on its own.
At this time next year, we could see that other Google services have crossed the 1 billion user mark as well. Google Drive, for example, has grown to 800 million active users in its short five-year lifespan, with over 3 billion objects uploaded to Drive on a weekly basis. Google Photos, on the other hand, has more than 500 million active users, which is a pretty big announcement considering it was only launched two years ago.
So, if it somehow wasn't clear before, Google's products are scaling at a pretty ridiculous rate. At next year's conference, we could very well hear that Google Drive has surpassed 1 billion users worldwide, with even more impressive statistics for the likes of YouTube and Google Maps. Stay tuned for more coverage straight from Google I/O 2017!