Android, iOS 5 to get native Hotmail app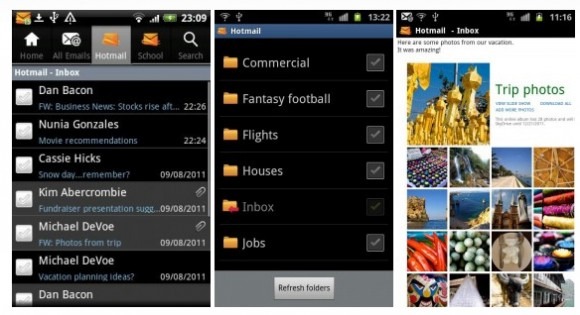 For many of us, Hotmail may sound like something from the distant past that haunted us with spam, but Microsoft is aiming to bring it back to life with a slew of new improvements and the release of an official Android app today for the free email service. The company also revealed that Hotmail will get native support in the upcoming iOS 5.
The revamped Hotmail promises easier blocking and unsubscribing tools along with automated clean-up features and enhanced support for folders. The Hotmail for Android app will also include push email, calendar, and contact sync, send/receive images, send/receive attachments, multiple Hotmail account support, and folder and sub-folder support. The app is free and is available now to all devices running Android 2.1 through 2.3.3.
Hotmail will be native on iOS 5, which is expected to launch along with the rumored iPhone 5 during tomorrow's major Apple event called "Let's Talk iPhone." (We'll be covering that live, so be sure to follow along with our live blog at http://live.slashgear.com). In iOS 5, Hotmail will become a selectable account option under "Mail" and be easy to configure like any other email with push, calendar, and contacts features.
[via Pocket-lint]