Android Device Manager gains remote locking functionality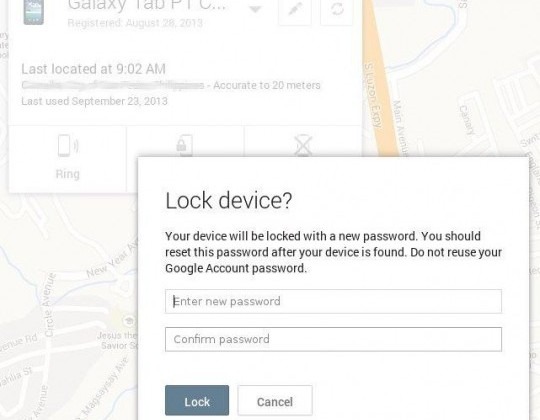 On August 2, Android Device Manager was introduced, allowing users of Google's mobile operating system to remotely locate their tablet or smartphone, as well as some other handy features like setting off a ringer so it can be found or wiping to keep data safe. Not quite two months later, remote locking has been added into the mix, allowing users to secure their device when it is misplaced.
The functionality is handy for those times when one finds their smartphone or tablet missing, but isn't quite sure it's at the never-to-be-found-again wiping stage, a drastic measure in times when one might be able to recover the device. With this new feature, users can head into Android Device Manger and find the locking function under the Lock icon.
Under the lock, users will then swap their PIN or password with a different one that overrides whatever the current unlocking method is, as well as turning off the display if it was on at the time of the remote locking. Once the handset or tablet is recovered, the gadget can then be unlocked and reverted back to whatever unlocking method desired.
Obviously, Android Device Manager will need to have already been setup before the device was lost, being enabled as the device administrator in Settings -> Security menu. Once in place, pinging, managing, and otherwise protecting data becomes easy, and gives another element of control over one's information.
VIA: Android Community
SOURCE: Android Police