Andi One universal remote runs Android 2.1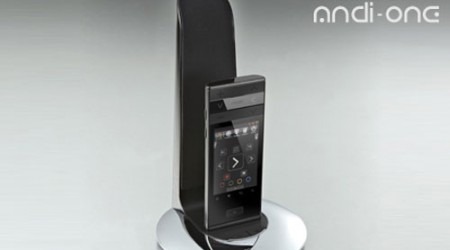 There are a bunch of different apps on the market today that will turn your iPhone and Android device into a universal remote control. What we don't see a bunch of are universal remote controls that run the Android operating system. The Conspin Andi One universal remote is just such an animal.
This universal remote has a big 3.5-inch touchscreen for controlling your home theater gear. It runs the Android 2.1 operating system and it supports apps raising the confusing opportunity to run a universal remote app on your universal remote. The Andi One has an aluminum body.
It can connect to your components via RF, IR, and WiFi and supports 5,000 brands and 10,000 devices. It charges with a charge stand via a micro USB port and the internal battery is good for 20 hours of use. Pricing and availability are unknown at this time.
[via Android Community]