Anamorphic fan, get your Vutec Silverstar in curve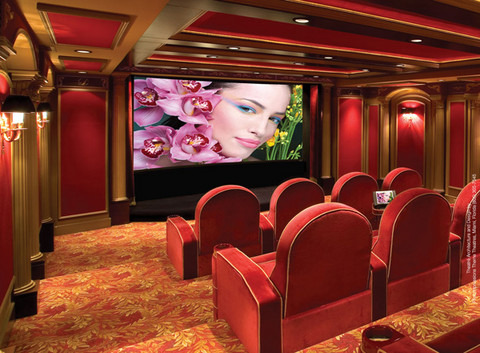 Years of using projectors, I have the privilege of screening varies kind of projector screens. They are not made equal, and honestly, a good start-up in projector venture is having the right screen to begin with. Some enriches contrast, some gains brightness and some just defines the most neutral color-reproduction. Vutec has launched the curved-version of its projection-screen lineup featuring an advanced and automated multi-aspect masking system for the most demanding anamorphic fanatics.
Vutec Masking system works on all widescreen anamorphic lens projectors, to mask video contents into 16:9 or 4:3 aspect while maintain constant image height (CIS). Why anamorphic lens you ask? It allows full pixel resolution with arguably better brightness and contrast than stretching a letter-boxed image with video processor. Why curve screen then? Projector light beam spreads more uniformly over the screen area on a high gain surface, it also eliminates the pincushion distortion introduced by the lens, and last but not least, it curves just like the real theater!
So there, the basic of having a curved screen is paramount to a high gain screen like the Vutec's Silverstar. Personally, I've set up the high acclaimed SilverStar (16:9 version) for a buddy for mine, and I wish I could afford one. High power rocks in screen projection! Besides their best seller, Vutec also offers a variety of surfaces such as BriteWhite Opaque, PearlBrite, GreyDove and SoundScreen surfaces for the Vision-X Dyna-Curve lineup. Vutec will showcase the dyna-curved lineup on the coming CES 2009, but if you can't be there, you may request additional information for your setup here.
[Pompano Beach, FL – December 10, 2008] – Vutec Corporation (www.vutec.com), a pioneer in high-gain curved screens, will present the "Vision-X DYNA-CURVE" – the new generation of high-gain curved screens for Home Theater in the Vision-X brand. Dyna-Curve features an advanced multi-aspect Masking system for use with all Widescreen 2.35:1 Anamorphic Lens Projectors, masking to 16:9 and 4:3, while maintaining constant image height for movie, HDTV and Standard TV formats.

DYNA-CURVE will be presented at CES 2009 at the Las Vegas Convention Center, January 8-11, South Hall #1, Booth # 20662.

"This next generation of high-gain curved screens for the Home Theater offers an enhanced sense of viewer immersion, true high definition, outstanding color reproduction, higher contrast and a full viewing area," said Kevin Baisley, Vutec's Vice President of Sales.

"Since our inception, we've always been the video projection screen manufacturer," said Vutec Chief Howard Sinkoff. "We never made a movie screen, and we're proud of the fact that with each new video projection development our commitment was always to engineer the next best advancement for the next level of video projection viewing. Dyna-Curve represents that next generation of excellence," he said.

Dyna-Curve is available with SilverStar, BriteWhite Opaque, PearlBrite, GreyDove and SoundScreen surfaces. "The marriage of Dyna-Curve with SilverStar is a major advancement which must be seen and compared with the ordinary," said Sinkoff.

"SilverStar, a patented front projection, true high-definition screen with a gain of 6.0, is the true standard for flat video projection screen to be measured by. It is the first new screen technology advancement in more than 30 years, and when applied to Dyna-Curve, it makes for a curved screen that truly lives up to its name – Dyna (short for "Dynamic"): high-definition with a 6.0 gain, higher contrast, full viewing area, outstanding color reproduction; it has to be seen to be believed," he said.

Unlike Vutec's first curved screen, which was parabolic, the new screen is a horizontal curve which SilverStar adapts to magnificently . Dyna-Curve with SilverStar is limited to a maximum viewing height of 59".

Dyna-Curve is available and delivered as a three piece modular unit for all screen surfaces, except for SilverStar, a rigid surface which is supplied fully assembled.

Custom sizes are also available on request.