AmpliFi Alien Wi-Fi 6 router promises true Gigabit Internet anywhere at home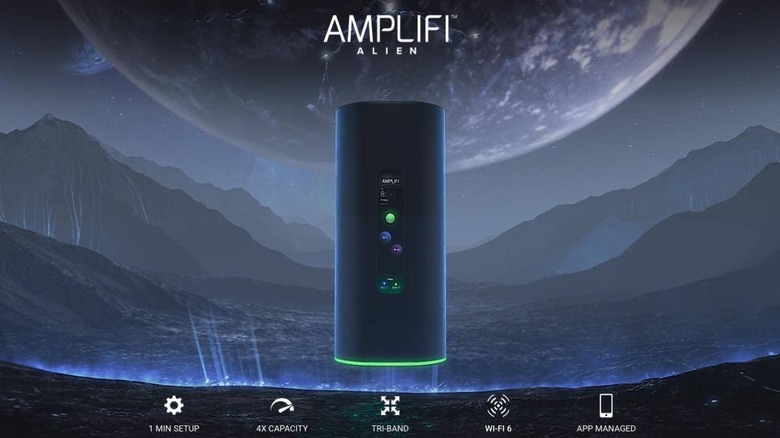 5G may be the battle cry of network operators and device makers in the mobile industry but it isn't the only revolutionary change as far as wireless connectivity goes. Wi-Fi 6 is slowly but surely making its way to mainstream markets but it is hampered by the lack of products for consumers. That's where Ubiquity's new AmpliFi Alien router comes in, promising to deliver 8x8 MIMO Wi-Fi 6 Internet in blazing Gigabit speeds wherever you are in the house or even in the building.
Design-wise, AmpliFi's latest router is ironically not alien, especially compared to the new breed of home and small office routers that look more like miniature spaceships rather than networking equipment. Its cylindrical design makes it look more like a smart speaker than a router. It even has an LED ring status indicator at its feet and a touch screen on its face for information and basic controls. All operations, including the simple setup, can be done via a mobile app.
The unassuming appearance belies the power that the Alien tries to offer inside. The tri-band router supports 2.4 GHz and 5 GHz for the newish Wi-Fi 6, a.k.a. 802.11ax, and, for compatibility with older devices, 5 GHz 802.11ac (Wi-Fi 5). The AmpliFi Alien boasts of 7685 Mbps capacity traveling through 16 streams. In addition to the wireless connection, the router also has four Gigabit Ethernet ports on its back for devices that need a wired connection.
The AmpliFi Alien is designed to be the center of your home, both in a networking sense and a literal sense. For best results, AmpliFi suggests putting the router in the middle of your home. But if you have a larger domicile or want to cover a wider area, you can network multiple Aliens together even if the router technically isn't a mesh system.
The AmpliFi Alien Wi-Fi 6 home router is available now for $379. That's somewhat on par with the very small number of Wi-Fi 6 routers launched this year. Of course, they're still a lot more expensive than most home routers, even the "Pro" ones and it all boils down to whether you think you'll need a Wi-Fi 6 router really soon.