AMD unveils 4GHz+ FX Series Vishera processors

AMD has revealed the latest in its FX Series of processors: the Piledriver Vishera chips. Aimed at computer users with demanding hardware needs, the new series comes in 4, 6, and 8-core variants with a "default" speed of 4GHz. The chips feature a variety of enhancements and improvements over previous offerings.
The new line is composed of four processors: the 4.2GHz FX-8350 (8-core, $195), the 4.0GHz FX-8320 (8-core, $169), the 4.1GHz FX-6300 (6-core, $132), and the 4.0GHz FX-4300 (4-core, $122). The FX-4300 has 4MB of L3 cache, while the FX-6300 has 1MB of L2 cache per core with a total of 8MB of L3 cache. The two higher-end processors, the FX-8320 and FX-8350, both have 8MB of L3 cache. This series uses the Piledriver architecture, which is an improved version of the previously released Bulldozer.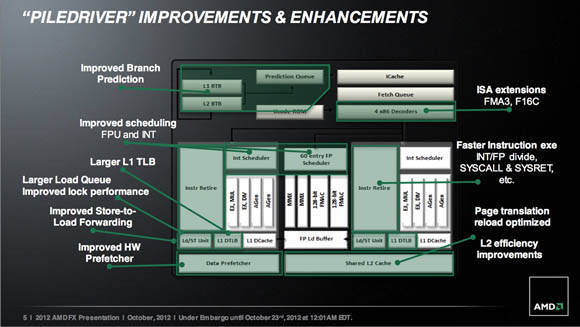 The Piledriver cores were first introduced back in May in the A Series Trinity chips. Improvements include improved scheduling, larger L1 TLB, larger load queue, page translation reload optimization, and more. Said Adam Kozak, "We're seeing anywhere from seven, all the way up to 15% [in improvement improvement]. Half of that comes from [instructions per cycle] improvements, and the other half or so comes from frequency improvements." According to AMD, you need a 9-series motherboard to run the FX Vishera chips.
During a pre-release presentation, these four AMD processors were compared to Intel's Core i5-3570K, i5-3450, i5-2300, and i3-2120 processors. In each case, the AMD processor was priced lower and offered better specs, according to AMD's presentation of the ecosystem. All FX Series processors are unlocked and can be overclocked.