AMD snags discrete notebook GPU market lead from NVIDIA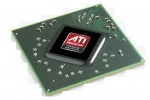 One of the watermarks for the notebook industry is how many GPUs are sold in a given quarter. All notebooks sold today sport either integrated GPUs or discrete GPUs to handle graphics, gaming, and movie playback. Typically, the discrete GPU market in notebooks is mostly in NVIDIA's court, AMD has changed that.
AMD has announced that it has swiped the market share lead for discrete notebook GPUs right out from under NVIDIA with a massive increase in quarterly sales. Numbers published by Jon Peddie Research show that ATI grew its market share in the discrete segment for notebooks by a whopping 36.5%.
AMD also increased its quarter-over-quarter discrete notebook GPU sales by 87.27% through the first six months of 2009. AMD is now sitting pretty in the top spot of the mobile GPU market with 53% market share. I am sure NVIDIA is working on grabbing that market share back as we speak. It's nice to see ATI do well for a change.