AMD Radeon RX Vega images reveal air and liquid cooled versions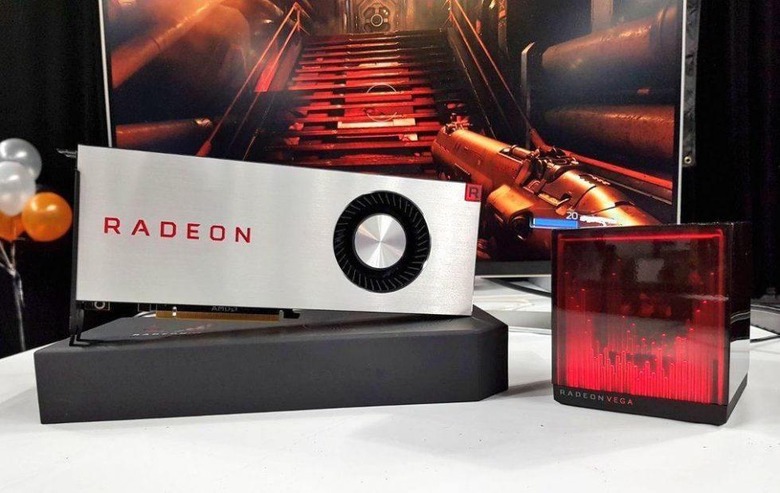 The SIGGRAPH 2017 event, an annual conference focused on computer graphics, is being held in Los Angeles this weekend, and AMD is due to finally reveal their new Radeon RX Vega graphics cards. However, in addition to teasing it on Twitter, they're letting a few select attendees share images of the cards as part of a subtle marketing campaign, giving fans at home a tiny look at some of the details.
The first big discovery is that the Radeon RX Vega will be available in both air and liquid cooled versions. Official specs are still forthcoming, of course, but at least we can see they sport a brushed metal finish with the Radeon branding on them. Interestingly, a tweet from the official Radeon Twitter account shows that the card comes with a small red and black "Holocube," however its function remains a mystery.
Among the images floating around are shots of the cards' back-plate with varying perforations for venting, and the display outputs which include one HDMI port and three DisplayPorts. There's also a pair of 8-pin PCI Express power connectors found on the corner.
While the air cooled Radeon RX Vega has a fan clearly placed in its center, the liquid cooled model features a closed-loop liquid cooling solution using braided tubing and a connected 120mm fan, almost the same as the Radeon R9 Fury X card. We're sure to hear more details direct from AMD soon, so PC gamers need to wait just a little longer.
SOURCE AnandTech, HotHardware