AMD Radeon E6400 GPU Gets Multiple Monitor Support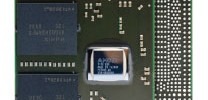 AMD has an ever growing line of GPUs for all sorts of needs ranging for the high-end gaming GPU down to the power sipping integrated GPU for computers of all sorts. AMD has announced that its entry-level embedded discrete GPU will support multiple monitors. The GPU supports up to four displays at one time. The GPU has some very nice features with an advanced 3D graphics engine and programmable shader architecture.
The GPU supports DirectX 11 and has a third gen unified video decoder. That video decoder supports dual HD decode of H.264, VC-1, MPEG4, and MPEG2 compressed video streams. It has 512MB GDDR5 frame buffer included in the BGA package and has high memory bandwidth. The GPU is aimed at casino gaming, digital signage, instrumentation, and industrial control systems.
The GPU is designed for the value conscious market and it uses AMD EyeFinity tech. The GPU supports both HDMI 1.4 and DisplayPort 1.2 outputs. AMD plans to make the GPU for five years and the GPU is designed to be paired with the APU for better graphics capability.