AMD makes six-core AMD Opteron EE CPU official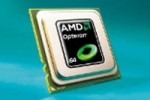 AMD is working hard to increase its market share in the CPU industry and it is making a bit of headway. The company is traditionally stronger in the server CPU market than it is in consumer CPUs. AMD today officially announced the availability of its latest Opteron EE processor.
The new AMD Opteron EE processor has six-cores and consumes 40W ACP. AMD claims that the processor delivers up to 31% more performance per watt over a standard quad-core AMD Opteron processor. Power savings in an enterprise computing environment is very important as a cost cutting measure. At times, the power saved in the server room can offset the cost of the upgrade. The new processor is aimed at cloud and Web 2.0 customers where density and low power are key.
"It's important for our industry to look at how technology is being used and where customers have emerging needs," said Patrick Patla, vice president and general manager, Server and Workstation Division. "The AMD Opteron EE processor enables OEMs to deliver energy-sipping servers that don't compromise on power management, virtualization or performance features. It is specifically designed to help address the challenges that are generating a great deal of discussion these days – building and running very dense data centers for Web services, while doing more with less."