AMD CPU roadmap leaked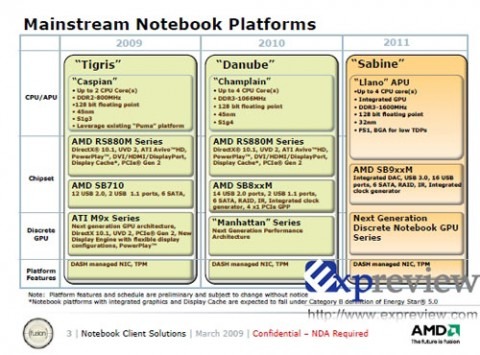 Well this is news! It seems like a few slides that were confidential to AMD got leaked out and now Expreview has them on display. So long as they're out in the open, let's take a closer look at what the CPU manufacturer has in store, shall we?
From what we can tell from the leaked slides, there will be a platform called Tigris that features a Caspian 45nm processor and DDR2 800MHz memory. The chipsets are to be AMD RS880M-series and SB710 plus support for 12 USB 2.0 connections along with 6 SATA connections and 2 USB 1.1 connections.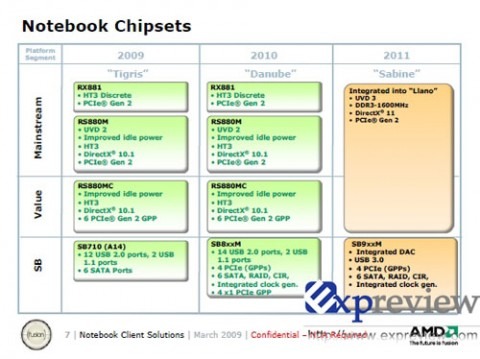 Also detailed is the Danube platform, set for a 2010 release with the Champlain processor, four cores, DDR3 1,066MHz RAM, AMD RS880M chipsets and a SB8xxM for the RAID interface, clock generator, 4 PCIe GPP slots and 2 USB 2.0 ports. The roadmap also featured details for the Sabine platform set for a 2011 release and will ahve the Llano Accelerated Processing Unit with 32nm integrated GPU, four cores, DDR4 1,600MHz RAM, an AMD SB9xxM chipset, 16 USB 3.0 ports and more.
[via Engadget]