AMD Athlon 64 X2 5000+ "Black Edition" hand picked for over clockers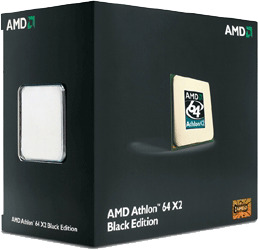 Consider yourself handy when it comes to overclocking and cooling? AMD just hooked you up then, I mean how often does a processor manufacturer release a 64 bit dual core processor that has unlocked multipliers?
Sure there is a bit of a premium over the regular processor, about $11, but for an unlocked processor, I'd say its probably worth it. In case you don't remember the specs on the X2 5000+ it has 2x512KB cache and operates at 2.6GHz.
Too bad they didn't make the 5200+ the "Black Edition" same processor, but double the cache. The Black Edition is available now, for as low as $136 now, and since it matters a little, its not 90nm it's a 65nm process.
The Dark Side is AMD Athlon 64 X2 5000+ "Black Edition" [via NordicHardware]