AMD Announces An August Release For Barcelona Chips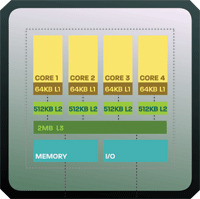 If you're waiting for AMD's answer to Intel's quad core chips, you won't have to wait much longer. AMD announced recently that their new quad core "Barcelona" chips will be shipping in August.
They will be releasing low power versions of their new processors along side their standard power chips. The new Barcelona CPUs will be clocked at speeds of up to 2GHz, though they are expected to have higher clocked chips available sometime in Q4.
AMD is boasting performance increases in the range of 40-70% in a range of functions. We'll have to wait until August to see just how they stack up against Intel's latest chips.
AMD Announces Launch Date on Barcelona Quad Core CPUs [via i4u]