Ambientec Shows Off SolarFold And SolarFan, Wins Our Hearts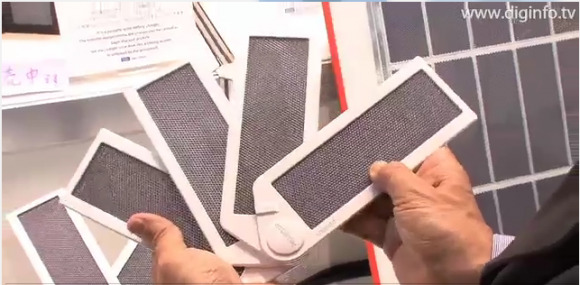 We love new and different methods to charge our devices. They seem to be coming out in spades nowadays, but we don't necessarily think that that's a bad thing. Especially not when companies like Ambientec are producing top-notch gadgets like the ones shown here. SolarFold and SolarFan are hopefully going to catch on big time, and we don't just mean in the Japanese market.
Over at PV Expo 2010, Ambientech showed off their latest solar-powered battery boosters, the SolarFold and SolarFan. They're just about the most appropriately named devices we've ever heard. The former, the Fold, opens up just like a Japanese folding screen, and the Fan does just what you might expect: open up like a fan. They're designed to be carried anywhere easily, and we think they've done a great job. Both of these models are the first of their mobile kind: they use light-gathering spherical solar cells. Plugging into the devices is easy enough as well: you just need a USB cable.
So, let's get to the important question: what's the charge like for, say, a mobile phone? A 10-minute charge will power your device for a three-minute phone call; so you could possibly make it last a bit longer if you're just sending some text messages. The Fan and Fold are sold in bundled packages, which include the USB cable to charge and a carrying case appropriate for the device. The SolarFan also comes with a special purpose tripod. The next big question: how much does it cost? 22,050 yen, if you're in Japan, which makes it about $245 dollars here in the States. Both products were released on March 4th, so by now you could find a retailer who'd be willing to ship it out to you. Any takers?
[via DigiInfo.tv]