Amazon now offers a ridiculous number of Dash buttons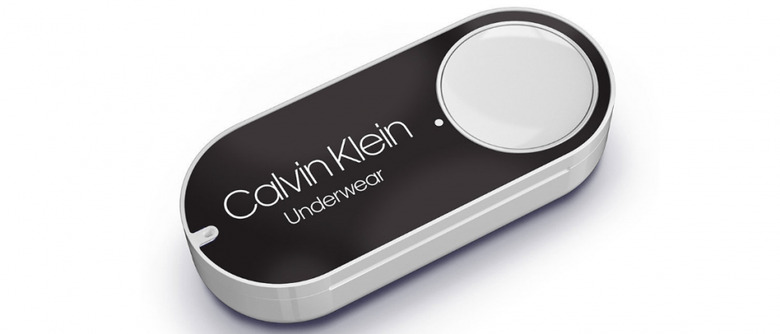 If you've bought into Amazon's Dash button platform, then you'll probably be pleased to hear that the company is adding 40 new ones to the lineup today. Not only will this new group be bringing Dash support to some well-known brands, but it also sends the total number of Dash buttons over 300. With that many, you can probably find a Dash button for most of the products in your home.
For those unfamiliar with them, Amazon Prime users can tie their Dash buttons to certain items and then reorder them by simply clicking that button. The Dash system turned two years old back on March 31, and in that time, Amazon has expanded it by a significant amount.
Some of the brands being added today include AMP Energy, Tylenol, Pepsi, Zyrtec, and even Calvin Klein. The first fashion brand to join Amazon's Dash program, this means that you can now order fresh underwear with the press of a button. There are an astounding 147 items compatible with this Calvin Klein Dash button, giving you plenty of options. Here's the full list of brands being added today:
· AMP Energy Dash Button

· Amy & Brian

· BC

· Boxiecat

· Calvin Klein

· Caza Trail

· CeraVe Baby

· CeraVe Cleanser

· CeraVe Moisturizer

· CLICK

· Compound W

· DenTek

· Duncan Hines

· Ethical Bean Coffee

· Force Factor

· Four Sigmatic

· French Market Coffee

· GOODYS

· Grove Square

· iReliev

· Lactaid

· Langer's

· Lifewater

· Listerine

· Little Remedies

· Luzianne Tea

· Mederma AG

· Mountain Dew

· Navitas Organics Power Snacks and Bars

· New England Coffee

· Pawluxury

· Peeled Snacks

· Pepsi

· Protein2o

· RADIUS

· Simple Squares

· Sparkling Ice

· Tend Skin

· Treehouse Kids

· Tropicana

· Tylenol

· Unique Pretzels

· Van's Foods

· VOSS

· Wish-Bone

· Zyrtec
Amazon reminds potential Dash buyers that even though each button costs $4.99, it essentially ends up being free since you get a $4.99 discount on your first order. Amazon is also running a promotion to tempt those of you who haven't taken the plunge yet, offering a buy two, get one free deal on all the Dash buttons it carries. Unfortunately, this is a one-per-customer type deal, so you can't use it to stock up on Dash buttons on the cheap.
What do you think of this latest round of Dash buttons? Any that you think would be particularly useful? Head down to the comments section and let us know!