Amazon Music app gives Garmin smartwatches an edge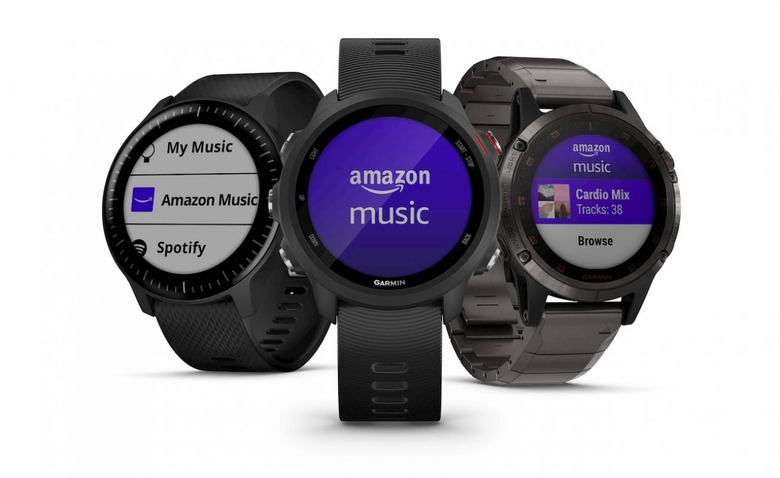 If you're an Amazon Prime subscriber and you happen to have a Garmin smartwatch on your wrist, then here's some good news: Amazon Music is landing on Garmin's smartwatch lineup today. In its announcement today, Garmin boasts that it's the "first wearable company to offer Amazon Music," so if you've been looking for a way to access your library on a smartwatch, then it sounds like Garmin is the pick.
In recent months, Amazon Music may not have been getting as much attention thanks to the ongoing feud between Spotify and Apple Music, but it can certainly be the more economical streaming service of the three. Amazon Music is included in Prime subscriptions, offering users access to 2 million songs and curated playlists without requiring that they pay extra.
Should you want more than the 2 million songs offer by a basic Amazon Music subscription, you've also go the option of signing up for Amazon Music Unlimited. This premium service runs $7.99 per month and inflates the number of available songs up to 50 million, a figure that challenges the libraries of both Spotify and Apple Music.
Earlier this month, Amazon rolled out new student pricing for Amazon Music Unlimited. Prime Student subscribers can now sign up for Amazon Music Unlimited for $0.99 per month, which is a pretty hefty discount on the standard going rate for the service. Of course, Prime Student itself costs $6.49 per month (or $59 per year) and is required in order to sign up for Amazon Music Unlimited, so the monthly charges associated with Amazon Music Unlimited don't begin and end with that $0.99.
In any case, Amazon Music is compatible with a pretty wide range of Garmin smartwatches. Those with Forerunner 245 Music, Forerunner 645 Music, Forerunner 945, fenix 5 Plus series, vivoactive 3 Music, or MARQ smartwatch from Garmin can grab Amazon Music from the Connect IQ store beginning today.