Amazon Kindle Paperwhite Review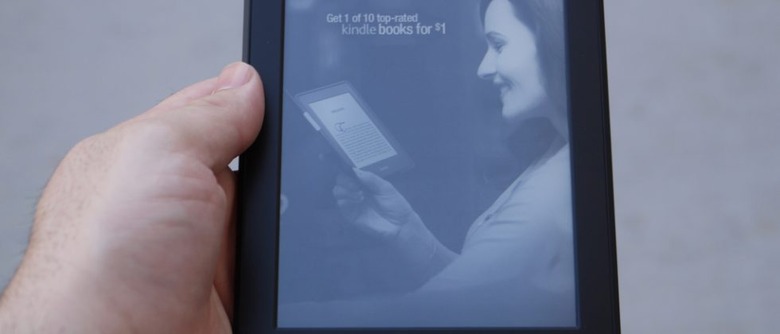 Amazon's Kindle Fire has been the star of the show as late, but we can't forget they have a huge hand in the eReader world. Amazon isn't ready to leave their bread and butter behind and with that we have the all new Amazon Kindle Paperwhite, the first Kindle with a front lit or built-in light for perfect reading anywhere. No longer will night readers have to keep a nearby lamp on and disturb others, or clip on a retro-style light. Does the new Paperwhite deliver on its promise for perfect reading anywhere? Read on to find out.
Earlier this month along with the Kindle Fire HD tablets Amazon's CEO Jeff Bezos took to the stage and announced this new and improved 6-inch Kindle reader. Being the first of its kind (from Amazon at least) we're giving it a thorough look. With an improved experience, better hardware, and of course a front-lit screen this is worth a second glance.
Hardware
The Paperwhite display aside, not much has changed from the previous Kindle Touch in terms of overall hardware. The design is for the most part unchanged and it still is an impressively light device being just 7.5 oz and only 9mm thin. The hardware has improved with a slightly smaller bezel, a nice matte black casing, and of course the dedicated buttons have all been removed. This can be a good thing, or bad thing depending on the user, but the on-screen controls with the improved capacitive touch display certainly is easy to use.
Under the hood we still have 2GB of internal storage (1GB usable) and sadly we don't get an micro-SD slot for expanded storage, but you'll be storing everything in the cloud with Amazon anyways. Then of course we have a dedicated power button, LED notification light, and micro-USB for the odd occasion you need to charge the eReader. Last but certainly not least is the 3G and WiFi connectivity. WiFi models start at $119, while the 3G model that works worldwide thanks to AT&T will run you $179. Oh and lets not forget those "Special Offers" and sponsored screensavers.
Personally, we are big fans of the changes to the hardware. The home button wasn't exactly needed with such a simple user interface, and the improved soft-touch black matte backing certainly is nice. Although the concave back on the NOOK is still something we favor. Overall impressions on the hardware are excellent. Build quality feels top notch, and screen durability seems improved over its predecessor too. Take a peek at our hands-on and software overview video below.
[vms 9da5f3639a621bcab5dd]
Paperwhite
Now the big thing here is obviously the "Paperwhite" display. The best way to explain this would be from Amazon themselves in this post. Essentially what we have here is a front — or side-lit display — instead of a backlit screen that will strain your eyes after an extended period of time. What makes the new Paperwhite that much better than the Touch is not just the built-in light on the screen, but the 6-inch display has 62% more pixels (221PPI) with a 1024 x 768 resolution too. The screen looks better, text is crisp, vivid, and easy to read, and of course the light makes the reading experience top notch.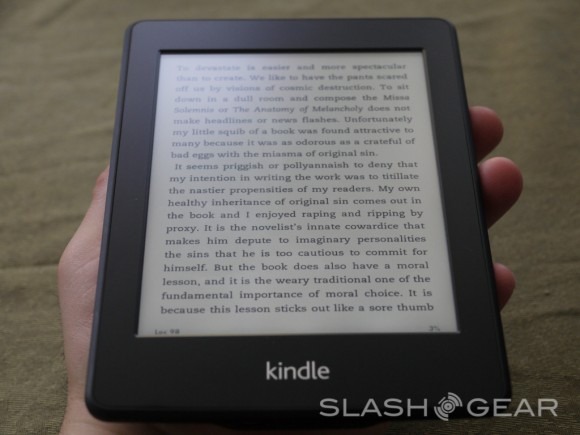 The Paperwhite uses Amazon's new patented light guide technology that actually guides the light across the screen and down, away from the eyes. Using only 4 LED's you'll get awesome options with lighting without suffering in the battery life department — but more on that later. The display isn't all about the light either. The Paperwhite screen is 25% better in terms of contrast for sharper and dark text. Add the better contrast to a crisp screen, then toss in the Paperwhite lighting technology this reader is excellent during daily use as always, but also great in low-light conditions as you can clearly see below.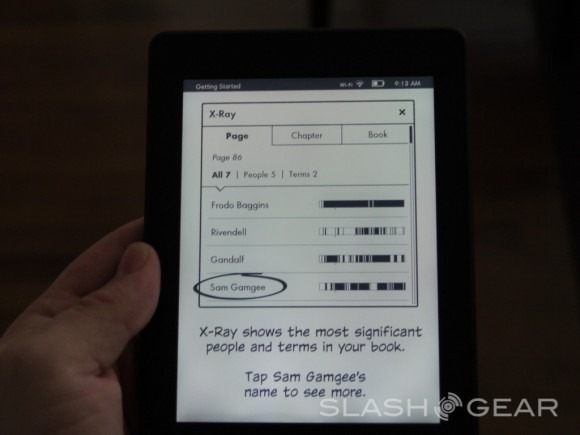 In use, it's certainly better that using an actual tablet for extended reading periods, and since this is still e-ink you won't be lighting up the entire room if you're reading in bed. This is the best for both worlds if you ask us. As you saw in our video above, adjusting the "Paperwhite" lighting is as simply as sliding your finger. Tap the top of the screen for the toolbar drop-down, then just tap the light-bulb to adjust as needed. For those worried about this new light and capacitive touch technology to hinder the reading experience, it's safe to say that isn't the case. Reading is simply awesome and we've loved our limited time with the new Paperwhite — and you will too.
Software
There really isn't much to talk about regarding software, since the user interface is so basic. Everything you've grown to love about the Kindle line is in-tact — and they've even added a few awesome additions to make things even better. We have time to read, x-ray, and tools for readers all available with ease. X-Ray lets you instantly find any and all details of any character, place, or moment in a book. Amazon explains this as letting you explore the "bones of the book" with a detailed breakdown, and so far we love it. Seeing and jumping to exact points in a 400 page read with ease is an awesome new feature for those diehards.
Time to read is another great new improvement. It's nothing special but just adds that extra level of polish to the experience. This tool helps readers know the amount of time it will take them to finish the chapter, or the entire book. It personalizes the time based on each person's speed, and constantly updates as their reading habits change. While interruptions change the output, this has generally been quite accurate for us. Last but certainly not least is the built-in dictionary. Just long press any word while reading for a detailed definition. We also have instant translations by simply highlighting a section for easy translation.
Being E-Ink the software is still only as fast as the hardware and the refresh times, which while improved — still take time out of usage. Nothing worth docking points for, as Amazon's always had some of the better refresh rates on their Kindle readers. The seamless sync of books across multiple devices, and all the new features added makes this the best Kindle reading experience yet.
Battery
Battery, which we stated above we'd talk more about — can't really be talked about too much. Amazon estimates 8 weeks of battery life. Yes, that was 8 weeks. Even with the new light and built-in 3G you'll still rarely need to charge the Whitepaper. Amazon states the 8 week claim is with limited 1 hour of daily reading and wireless being turned off — but either way that is still extremely impressive. Offering nearly the same battery life as before while delivering a lit display and tons of new features makes us plenty happy.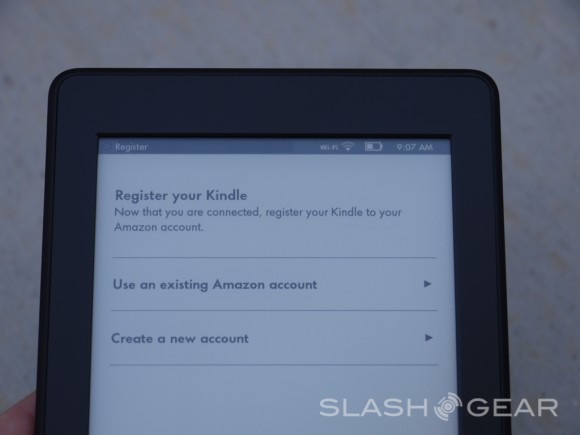 Leave WiFi or 3G enabled and this battery life drops down to about 5 weeks — which is still impressive and beats the Nook Glowlight across the board. So far I've read a little daily for the past week and a half and haven't seen the battery meter drop one bit — so take it as you will.
Wrap-Up
Overall what's not to like here? You get an improved experience across the board with a better, crisper, clearer display, the option to read in any lighting situation, and all of this for only $119. While they've dropped the original Touch down to $79, we feel the $40 premium for the Paperwhite is crucial and an excellent choice. Sadly those "special offers" or ads as we call them will be noticeable every time you open this book. You can opt out by spending $139 instead of $119 for the WiFi model, and the same increase is present for the 3G $179 model.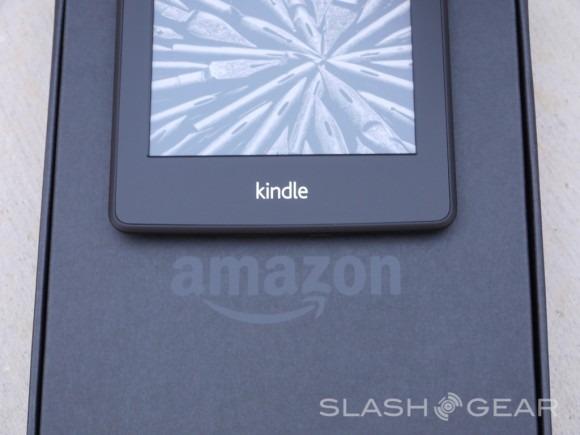 There's no doubt that the Paperwhite feature works, and works great. For those that want the best possible reading experience across the board the Amazon Kindle Paperwhite is certainly worth your dollar, and it's available now at Amazon — shipping tomorrow. However the Kindle Fire HD is a great alternative for those seeking to do a little more with their tablet for a slight increase in price. Obviously if reading will be nearly the only function the Paperwhite is the clear (and bright) choice in our book.