Amazon halts Echo Wall Clock sales to fix connectivity problems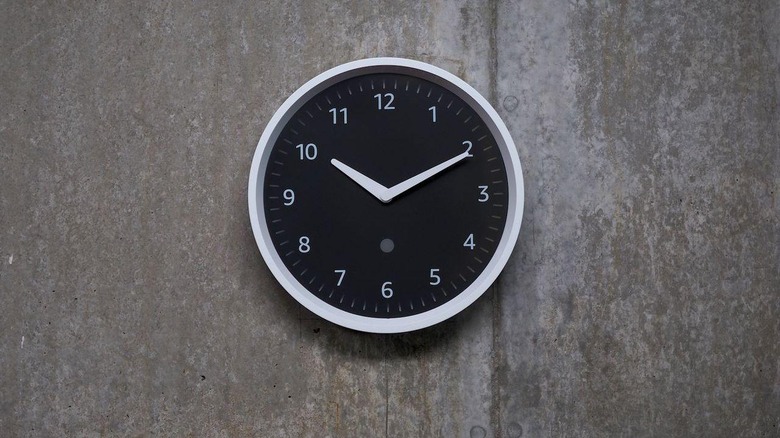 Back in September, amid a flurry of IoT product reveals, Amazon announced a very curious Echo device: the Echo Wall Clock. It was a reveal that left us scratching our heads at the time, but in hindsight it isn't that shocking of a announcement when you consider that Amazon wants as many things as possible tapping into IoT platform. In any case, the Echo Wall Clock launched in December, complete with a little more functionality than we're used to seeing in traditional wall clocks.
Now, only a month after that launch, Amazon has halted sales of the Echo Wall Clock. The listing for the device is still live on Amazon's store, but you can't actually add one to your cart and purchase it. It appears that Amazon has pulled the Echo Wall Clock so it can work on ironing out some launch issues.
The company tells The Verge that it has received some reports of connectivity issues with the Echo Wall Clock. The device currently has a rating of 3.2 out of 5 stars from 467 reviews, and a fair number of the negative ones mention that the clock won't stay connected to various Alexa devices, such as the Echo Dot or the Echo Show.
It's pretty clear that these are the connectivity issues that Amazon is looking to sort out. The company told The Verge that it plans to make the Echo Wall Clock available again in the coming weeks, but didn't give a more specific time frame for that. If you had an Echo Wall Clock on your list, then, it looks like you'll be waiting at least a little while before you can buy one.
For as much as we joke about the Echo Wall Clock, it does have some useful – albeit relatively simple – functionality. It uses a ring of 60 LEDs around the clock face to display various Alexa timers, offering up at-a-glance information on active ones you have ticking down. The Echo Wall Clock doesn't run Alexa itself and instead needs to be paired to one of Amazon's various Alexa devices to function, which is where these connectivity issues come in.
So, while the Echo Wall Clock doesn't boast a ton of additional functionality over traditional wall clocks, it might be a nice addition for anyone who is already knee deep in Amazon's Alexa ecosystem. We'll keep an eye out for more information on the Echo Wall Clock's eventual return, so stay tuned for more.