Amazon Echo Dot Gets A Big Discount, But You'll Need To Be Quick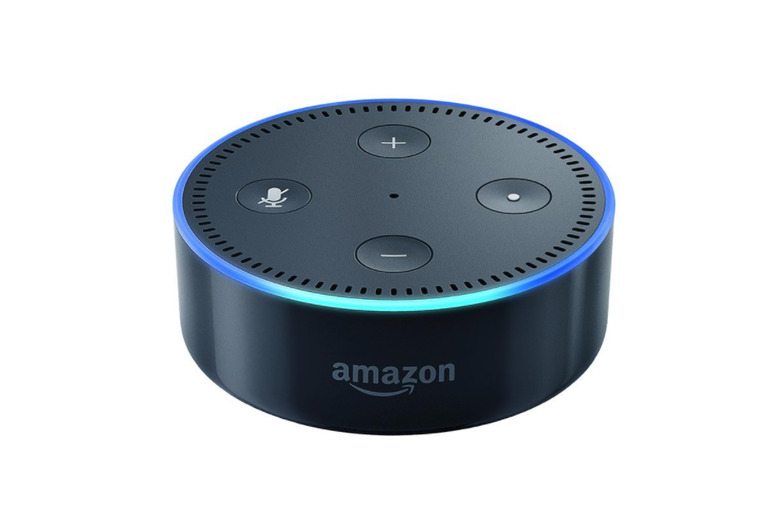 We may receive a commission on purchases made from links.
Amazon has a variety of different Echo devices available these days, but if you've yet to dive into the Alexa ecosystem, the company has a new deal aimed directly at you. Amazon has discounted its second-generation Echo Dot today, making its cheapest Alexa device even more inexpensive. You'll have to act fast, though, because this deal isn't going to last very long.
In fact, this just so happens to be a one-day-only deal. Amazon has marked down the price of the Echo Dot by $10, dropping it to $39.99. That may not seem like much, but considering the Echo Dot is already inexpensive as far as smart speakers go, that $10 price drop ends up representing a 20% discount.
That isn't too bad for someone who's new to Alexa and wants to dip their toe in the water before jumping in with a more advanced device like the standard Echo or the Echo Show. If you're already an Alexa user, on the other hand, this is a good opportunity to expand your Alexa network of devices to more rooms within your house.
This is the price we normally see the Echo Dot drop to during big sales, such as Black Friday or Prime Day. Therefore, if you miss out on this sale but later decide that you want to pick up an Echo Dot, it shouldn't be tool long before you have another chance to buy it at a similar price – Thanksgiving and Black Friday are right around the corner, after all.
Of course, if you want something a little more robust, there's always the 2017 Amazon Echo, which costs quite a bit less than its predecessor did. Amazon doesn't give an exact time that this Echo Dot sale will end, so if you want one, it's probably best to buy sooner rather than later. You can find the Echo Dot, discount and all, over at Amazon.