Amazon Daily Dish delivers lunch to Prime members in Seattle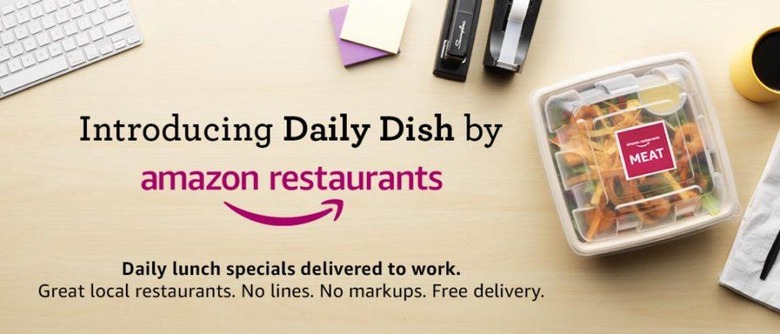 Amazon has a new lunch delivery service in Seattle called Daily Dish. The service is being tested for now, and is limited to certain companies with a Prime subscription requirement. Customers are texted a menu in the morning; it consists of a few different dishes from local restaurants, and changes at times. Orders have to be placed before 11AM, after which they're cooked and delivered to the customer's workplace between noon and 12:30PM.
Though the service is currently limited to Seattle, it's not hard to imagine it expanding to other big cities in the future. The closest well-known competing service is arguably uberEATS, which operates in a similar fashion, but isn't limited to just lunch time (and is available in more cities). In this case, Prime subscribers place their lunch order through the Prime Now app.
The menu appears varied; example dishes include a brisket burrito, falafel salad, chili-lime kale salad, and a lamb & beef gyro. Prices seem reasonable compared to what you'd pay at restaurants for a similar meal — the burrito, for example, is about $9 and the gyro is $10.
It's not clear when Amazon plans to expand the service, but a spokesperson speaking with GeekWire indicates such plans are in place, saying, "Prime members are loving the service so far and we are excited to continue expanding the service." It's not clear what city/cities are in the pipeline to get Daily Dish next.