Amazon Appstore updates with new UI and bugfixes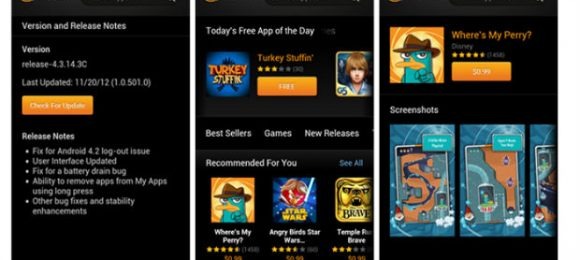 We may receive a commission on purchases made from links.
Those who rely heavily on Amazon's Appstore for Android (especially for their Free App of the Day promo) will be pleased to know that the user interface got a facelift, and many of the annoying bugs that have been plaguing your experience with the app have now been fixed, including the multi-user login issue for Android 4.2 users.
The app has been updated to version 4.3.14.3C, and the user interface refresh is a welcome one. While we weren't necessarily getting tired of the old interface, it's nice to see that Amazon put a little more life into the app. The new UI of the Appstore looks similar to what you would experience on the Kindle Fire HD.
There's also a much-needed Android 4.2 compatibility fix for the Amazon Appstore. In the past, switching user account on an Android 4.2 device would require you to log into the Appstore on each user account every time you switched, but this has now been remedied. Other bugs, including one that was responsible for battery drain, have been fixed as well.
If you don't have access to the Google Play store, the Amazon Appstore app is a wonderful alternative. The update is available now on Amazon's website, or you can go ahead and update it right from your device if you already have it installed. We have to say, the Amazon Appstore is worth it just for the Free App of the Day promo alone.
[via Android Police]