AM General Humvee Civilian series 4 x 4 kits debut in Abu Dhabi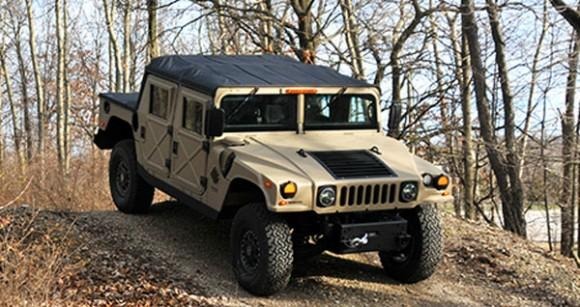 AM General sold all-terrain vehicles to the US military for a number of years and the big and tough truck was called the Humvee. There was a civilian version of the vehicle sold called the Hummer, but the company has gone out of business. AM General is bringing the Humvee back to the civilian market, in a fashion. The Humvee Civilian known as the C-Series has debuted as a DIY kit in Abu Dhabi.
The new C-Series kit comes with what the company calls "all the basics." The basic stuff includes the aircraft quality aluminum riveted body, and durable chassis, and a basic soft top structure. The interior is described as "trimmed-out" and ready for customization. The vehicle comes with no powertrain in the kit form.
No powertrain means that the vehicle has no engine, transmission, transfer case, or drive shafts. The chassis does have springs, cross-members, geared hubs, half-shafts, Torsen differentials, and other items are pre-installed. The LED lights around the vehicle are installed, the soft top with soft doors are included, as well as the main and secondary fuel tanks.
Out-of-the-box the interior has camouflage accents and includes a new gauge pack. Options for the kit include a central tire inflation system, hard doors with retractable Windows, 17-inch aluminum wheels, all-terrain tires, a wench, aluminum rocker panels, and improved differentials. The base price for the kit starts at $59,995. That is a lot of money for kit that needs significantly more money invested before it can be driven.
[via Humvee C-Series]