Altec Lansing Unleashes New MIX Boombox iMT810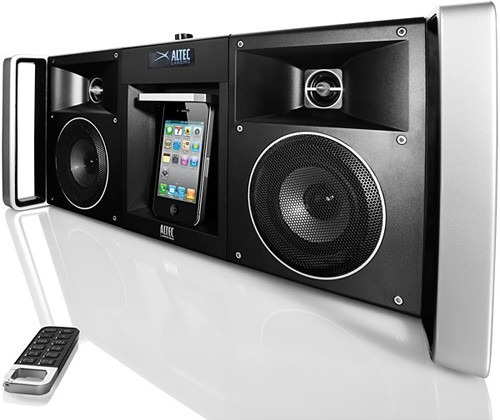 Of the many technologies and gadgets that have become obsolete over the years, the form factor of the iconic boombox remains. In fact, Altec Lansing has a lineup of digital boomboxes that are iPod and iPhone speaker docks in disguise and they have just begun shipping out their latest addition—the MIX iMT810 that's now compatible with the iPhone 4.
The MIX iMT810 features updated aluminum accents, enhanced clarity, heavyweight bass, 5.25-inch subwoofer, and an adjustable seven-band graphic equalizer. It has a blue LCD display, digital FM radio tuner, remote control, and dual AUX IN jacks for connecting to additional audio players. It also automatically pauses music when a call is received on the docked iPhone.
When the MIX iMT810 is plugged into the wall, it can also charge your docked iPhone or iPod. If you need it unplugged, the digital boombox can run on eight D-cell batteries for up to 30 hours. It is now available and priced at $299.95.
[via iPodNN]