Alphabet Life Sciences "capicola" health tracker seen at FCC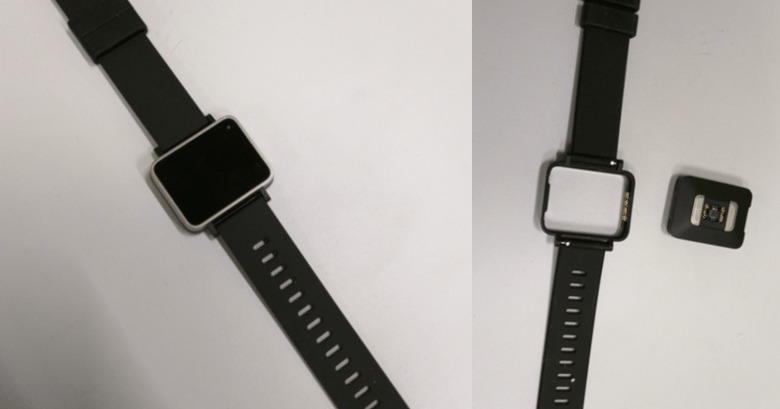 When Google's top brass cooked up the whole Alphabet soup, one of formerly Google managed projects that became a subsidiary of its own was Google X's Life Sciences, now simply called Life Sciences and under the direct purview of Alphabet. Even before then, the group was already at work on various device concepts, including insulin-measuring contact lenses and a dedicated health tracker. Not much has been heard about the latter, nicknamed capicola. It seems, however, that the project is far from being dead, making an appearance at the FCC long enough for photos to be taken and, of coursed, leaked.
Truth be told, Google already has a handful of fitness trackers in the form of Android Wear smartwatches in the market, some of whom are quite equipped for basic functionality. Capicola, however, which is was given the FCC ID A4R-CAP1, is meant more to be a full-pledged health device to be used in the medical field rather than a hobbyist feature. In addition to measuring heart rate and rhythm, it will supposedly also be able to measure skin temperature, noise levels, and light exposure, among other things.
At first glance, based on these FCC photos, it does look like a regular smartwatch. But unlike a smartwatch, the main device can be removed from the frame and band, whereas smartwatches would actually only detach the bands. What that will mean in practice is hard to judge based on just a few pictures.
Other than this rare proof of existence, there is little info about capicola, especially when Google plans to turn it into an actual marketable product. Previously, Google said it expected to test it out in summer and find a manufacturing partner soon. So far,however, it has been silent on that front. Another Life Science project was the Smart Contact Lens, which was already announced to become part of Novartis' portfolio. That too has seemingly gone silent.
VIA: 9to5Google